Written by
Traditional
Date
19th Century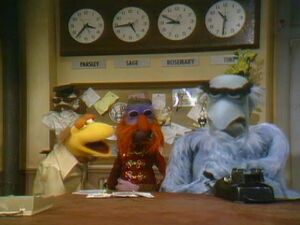 Scarborough Fair was a large and complicated production number in episode 511 of The Muppet Show. Paul Simon sings the melody while playing a lute and strolling through a Renaissance fair, complete with musicians, maypoles, and sheep. Miss Piggy chimes in with the "Parsley, sage, rosemary and thyme" line in each verse; she begins the song in her sweetest voice, but is bellowing by the last verse. Scooter plays a flute. Fozzie Bear wanders by and recites the nursery rhyme "Simple Simon met a pieman." At the end of the number, Link Hogthrob, as the sheriff, arrests Paul for "playing a lute without a license."
Paul Simon and Art Garfunkel had a hit with the same 19th-century version of this traditional song set in counterpart to the anti-war "Canticle" that they wrote themselves; it was the title track on their 1966 album Parsley, Sage, Rosemary and Thyme. It was featured in the 1967 hit film The Graduate.
References
Releases
Video
Community content is available under
CC-BY-SA
unless otherwise noted.