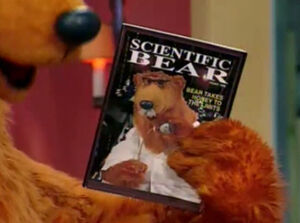 Scientific American is monthly magazine about popular science. It is notable for its long history of presenting science to an educated but not necessarily scientific public, through its careful attention to the clarity of its text as well as the quality of its specially commissioned color graphics. Established in 1845, it is the oldest continuously published monthly magazine in the United States.
References
In the Bear in the Big Blue House episode "Scientific Bear", Bear checks the mail to see that the latest issue of Scientific Bear has arrived. He says, "it tells me so many interesting things about the world and how it works."
Connections
Albert Einstein published the 1950 article "On the Generalized Theory of Gravitation"