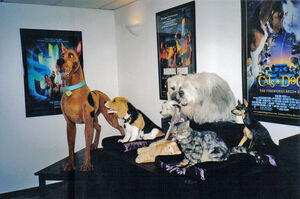 Scooby-Doo is a Hanna-Barbera animated series that was originally produced for Saturday morning television. Debuting in 1969 on CBS, the characters have appeared in numerous spin-offs and versions, as well as direct-to-video movies and prime-time specials. Beginning in 1998, Warner Bros. Animation took over production of the animated Scooby-Doo franchise.
The characters were brought to the big screen in a live-action adaptation in 2002; David Barrington-Holt worked uncredited as creative supervisor/character designer for Jim Henson's Creature Shop. According to sculptor Brian Wade, a full-sized stand-in puppet was built of Scooby-Doo, but replaced for the final film by a CG character.[1]
The 2013 direct-to-video movie Scooby Doo Adventures: The Mystery Map features puppet versions of the characters and the involvement of several Muppet alumni, although it is not affiliated with the Jim Henson Company. The movie was produced by David Rudman's production company Spiffy Pictures.
Muppet Mentions
When Josie and the Pussycats crossed over to The New Scooby-Doo Movies episode "The Haunted Showboat," Melody said of the vessel the gang was following into a cave, "He didn't even say, 'Open, Sesame Street!"
In the unmasking scene of the second season Scooby-Doo! Mystery Incorporated episode "Dance of the Undead", the criminals make an indirect derogatory reference to a record store owner, based on an early real life MTV personality. Responding to a statement, the lead singer of Rude Boy and The Ska-tastics says, "Ah, don't be such a muppet, Martha Quinn."
References
Trivia
Connections
External links
Sources
↑ Wixson, Heather A. Monster Squad: . Celebrating the Artists Behind Cinema's Most Memorable Creatures. BearManor Media, 2017. p. 337-338
Community content is available under
CC-BY-SA
unless otherwise noted.