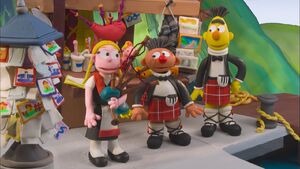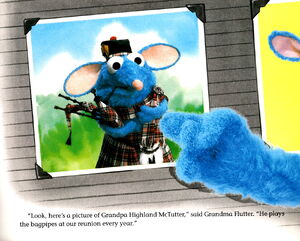 Scotland is a country that is part of the United Kingdom, occupying the northern crest of Great Britain. The country is known for its castles, as the birthplace of modern golf, tartan patterns, kilts, and their best known instrument, bagpipes. The single most famous resident would be the Loch Ness Monster (popularly known as Nessie), whose exploits have featured in legends, cartoons, and in the Creature Shop-effects film Loch Ness. The Scottish Highlands are famously picturesque, and there can be only one of them.
References
Perhaps the greatest Scottish guest star on The Muppet Show is Angus McGonagle in episode 417. The Argyle Gargoyle wears a kilt and tam o'shanter hat.
Old MacDonald, at least on Sesame Street, is usually a Scotsman, as evidenced by his accent.
For the Sesame Street song "The Frogs in the Glen," Kermit is accompanied by bagpipe-playing frogs. The word "glen" is particularly associated with the mountain valleys of Scotland (and Ireland). Kermit claims the song is an "old frog folk song from Scotland."
On Big Bag, Argyle's twin brother Scotty McSock lives in Scotland. Bother characters speak with Scottish accents, and argyle as a pattern has its origins in Scottish tartans. Similarly, a Scottish-accented argyle sock appears on Sesame Street in episode 4163
In episode 4150 of Sesame Street, when Gordon is playing golf, a Scottish golfer appears to give him advice and a wider golf club.
Community content is available under
CC-BY-SA
unless otherwise noted.