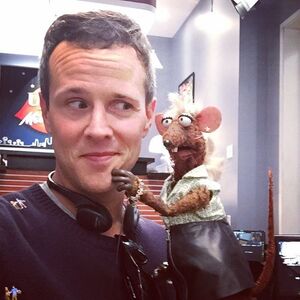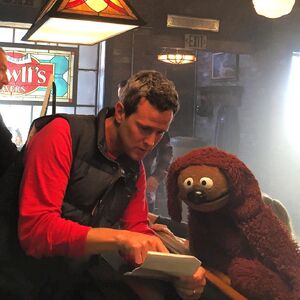 Scott Weinger (b. 1975) is an actor best known as the voice of the Disney character Aladdin and as D.J.'s boyfriend Steve on the sitcom Full House. More recently working primarily behind the camera as a producer and writer, Weinger became a co-producer on The Muppets when the show returned after a Christmas hiatus. Weinger co-wrote the season finale "Because... Love." He had hinted at his work beginning in December, retweeting videos and ABC promo links on his Twitter account,[1] as well as a revealing photo with Yolanda Rat on Instagram. The latter was captioned "Nothing more thrilling than a little on-set flirtation."[2]
As an actor, Weinger had early roles in Police Academy 5: Assignment: Miami Beach (as a kid menaced by a shark) and the 1988 mini-series Hemingway. He then became mostly typecast as guys named Steve, beginning with guest spots on Life Goes On (1989-199) as Corky's friend Steve Smith, a regular role on the sitcom The Family Man (1990-1991) as Steve Taylor, and then Steve (first named Peters, later Hale) on Full House (a guest appearance in 1991, followed by regular status from 1992-1995). In 1992, he was cast as the title character in Disney's animated feature Aladdin, a part he reprised in two direct-to-video sequels, an animated series, assorted video games, and other projects up to the present. He also dubbed Atlas in the 2001 anime film Metropolis. Occasional on-camera roles since have included small guest spots on Walker, Texas Ranger and Scrubs.
Transitioning to writing, Weinger scripted episodes of the sitcom What I Like About You (writing three episodes in 2005, then appearing in four 2006 episodes as Officer Rubin), Privileged, and 90210 (2010-2013). He received story editor, co-producer, and finally producer credit on the latter, and moved on to write and produce on The Neighbors (also appearing on-camera in one episode) and as supervising producer and occasional writer on Black-ish and Galavant (working with Kristin Newman and songs by Aladdin composer Alan Menken). In 2016, he reprised his Full House role on the Netflix sequel Fuller House.
Sources
↑ scottweinger's Twitter. One of several Muppet tweets. Dec. 08, 2015
↑ scottweinger on INstagram. Dec. 18, 2015
External links
Community content is available under
CC-BY-SA
unless otherwise noted.