A handful of Muppets Tonight episodes featured screen tests for movies that starred the episode's guest star, in which a Muppet character was shown to have auditioned.
Episode 103 features Miss Piggy's audition for the role of Sally opposite Billy Crystal as Harry in When Harry Met Sally. The screen test parodies the scene in the film in which Harry and Sally discuss whether men can tell when a woman fakes an orgasm. In this version, however, the question is whether men can tell when a woman fakes a sneeze.
The screen test, which opens with a Muppet parodying director Rob Reiner, shows Billy (as Harry) telling Piggy (as Sally) over dinner that his date canceled the previous night because she had a cold, Piggy proposes that she might have faked a sneeze to get out of the date. Billy dismisses this, as he is pretty sure he can tell the difference between a real sneeze and a fake one. But to prove him wrong, Piggy proceeds to perform a fake sneeze, taking her time with the "aaah"s (as opposed to the "choo!") so that her performance mirrors Meg Ryan's fake orgasm in the final film. This causes one of the other diners to say, "Waiter, I'll have what she's having, only less pepper," parodying the famous line uttered by Reiner's mother.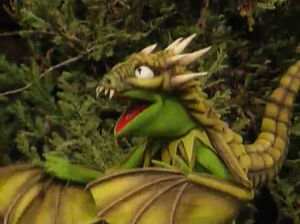 Kermit the Frog shows a fake screen test for a movie that eventually became Dragonheart in episode 207. Dennis Quaid plays Sir Cumference of the Circle, who challenges Kermit as "Froggo the Dragon."
See also