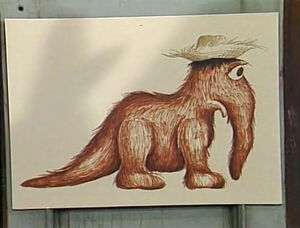 Señor Esnofelopago is Snuffy's Puerto Rican cousin who visited in Sesame Street Episode 1934. For his appearance, a fifty-pound sombrero was built and placed on the head of the regular Snuffy puppet. However, the weight of the sombrero caused the frame of the puppet to collapse, pinning down Martin P. Robinson and Bryant Young under a wall of fur.[1] The incident was mentioned in the 2009 book Sesame Street: A Celebration - 40 Years of Life on the Street.
Marty Robinson shed some more light on the incident in a post on Sesame Family Robinson:
"Yes, the "Sombrero Incident". A very heavy hat was built for Señor Snuffalupago, a relative of Snuffy's I was playing. Midway through a scene, the aluminum frame backpack I wear to support the beast gave way, dropping the entire character and puppeteers in a great heap. Luckily, no one was hurt. Within about twenty minutes, the shop had drilled and riveted the broken section allowing us to finish the show. When they had a proper amount of time, the Henson shop replaced the stressed backpack. Snuffy himself, twenty-five years later, is the same. Of course he gets maintained inside and out before each season, with special attention paid to all those lovely feathers worked in to his fur. After the sombrero incident, all hats and costume pieces were made much lighter.[2]"
Sources
Community content is available under
CC-BY-SA
unless otherwise noted.