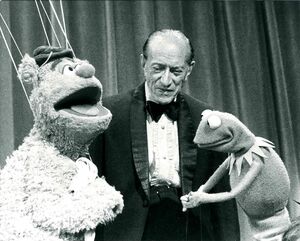 Señor Wences (1896-1999, born Wenceslao Moreno) was a Spanish ventriloquist, and the guest star in The Muppet Show episode 508.
Wences was one of the highest paid vaudeville acts in the world. Hugely popular with American TV audiences through appearances on The Ed Sullivan Show, Wences was also a top nightclub favorite. He continued to perform well into his nineties. Wences' characters were Johnny, the performer's own hand adorned with a painted face, and Pedro, a head in a box. When conversing with Pedro, Wences would frequently ask "S' all right?", with the response "S' okay." Labyrinth references the routine in the dialogue between the Wiseman and his hat.
Wences died in New York on April 20, 1999, at the age of 103.
Trivia
External links