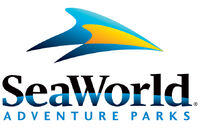 SeaWorld is a chain of aquatically-themed amusement parks owned by SeaWorld Parks & Entertainment, with three parks in San Diego, San Antonio, and Orlando.
SeaWorld Orlando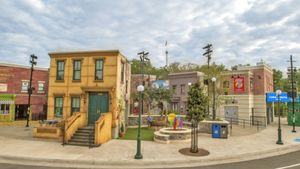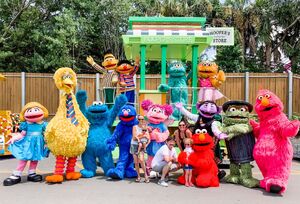 SeaWorld Orlando features the Sesame Street-themed area Sesame Street Land (née Sesame Street at SeaWorld), which opened on March 27, 2019, replacing Shamu's Happy Harbor. Sesame Street characters have been appearing at SeaWorld Orlando in stage shows and seasonal events since 2007.
Sesame Street Land is modeled after the Sesame Street set, with locales such as 123 Sesame Street and Hooper's Store. Exclusive video and audio featuring the Muppets was recorded especially for interactive sections of the area. A special Elmo Bubble Wand available in the shopping center enables additional interactive features around the area as well. Walk-around characters appear for photo ops with park guests in addition to appearing in the daily Sesame Street Party Parade.
Prior to Sesame Street Land's opening, Annual Passholders were given a preview of the area on March 23 and 24, 2019. A special launch event was held on March 26, featuring a short appearance by Elmo, Abby Cadabby and Rosita. On November 24, 2021, Sesame Street Land would add the Sunny Day Carousel, replacing the Sea Carousel that had been left behind from Shamu's Happy Harbor.

Attractions:
Concept art:
Sesame Street at SeaWorld teaser videos:
Former attractions: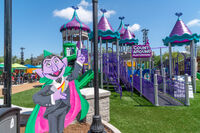 SeaWorld San Diego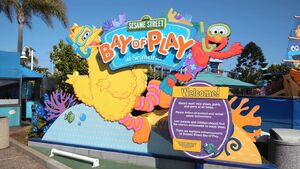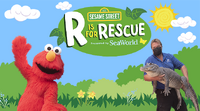 Sesame Street Bay of Play opened at SeaWorld San Diego in 2008, replacing Shamu's Happy Harbor.
The following rides are found at SeaWorld San Diego:
Abby's Seastar Spin: a spinning teacup ride
Elmo's Flying Fish: a rotating flying attraction, similar to Disneyland's "Dumbo the Flying Elephant" ride
Oscar's Rockin' Eel: a rocking tugboat ride themed like an eel
Shows and Parades
Sesame Street Party Parade - debuted in 2018.
R is for Rescue (2021) - Animal education presentation featuring Elmo, Abby Cadabby, and Big Bird, along with the SeaWorld Rescue Team and animal ambassadors.
Let's Play Together (2021) - with Elmo, Cookie Monster, Grover, Abby Cadabby, and Rosita.
Photo-Ops & Character Interactions
The Count's Castle
Abby Cadabby's Garden
Sesame Street Storytime
Furry Friends Dance Party
Brunch with Elmo and Friends - Friday-Sunday from 10:30 to 11:30 am at Explorers Café Patio.
Shops and Restaurants
Former attractions:
Seasonal
For Halloween (2009-2010), their character breakfasts feature Count von Count.[1] Abby Cadabby's Halloween Adventure is a 4,000 sq ft pathway filled with interactive elements, where kids help find Abby's magic wand. In 2011, Count Von Count's Spooktacular Breakfast was offered as character dining.
A Sesame Street Christmas is a stage show added in December 2009. Character dining at the park was seasonally themed to "Elmo and Friends Christmas Breakfast".
From January to February 2021, the park offered The Sesame Street Parade of Lights Drive-Thru at SeaWorld. The characters pose on the same floats during the day, for physically distant photos. It is the only park in the chain to not be allowed to resume operations during the COVID-19 pandemic.[2][3]
SeaWorld San Antonio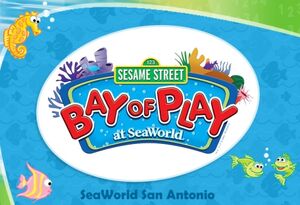 Sesame Street Bay of Play opened at SeaWorld San Antonio in 2011.
The following rides are found at SeaWorld San Antonio:
Big Bird's Spinning Reef: a Ferris wheel
Elmo's Dolphin Dive: a vertical drop ride
Abby Cadabby's Rocking Wave: a ride that rocks forwards, backwards and sideways
Little Bird's Splash: a water area "where kids can play in 22 water elements such as bubblers, geysers, jets and dumping buckets."
Super Grover's Box Car Derby: a kiddie roller coaster (opened in 2019, replacing Shamu Express).
Grover's Round-Up: Carousel
Dry play area
Tot's Ahoy!: Dry play area for children up to age 3.
Shows and Parades
Bay of Play Block Party - dance party
Sesame Street Party Parade - debuted in 2018.
Sunny Day Celebration - stage show performed at the Sea Star Theater.
Seasonal
In 2011, a Sesame Street Brunch ran as the character dining event. The 2009 show continued at Nautilus Amphitheater, while Elmo's Christmas Wish was added at Happening Stage.
Walk-Around Characters
Julia - guest at SeaWorld Orlando, April 2021
See also
Sea World, an unrelated similarly-named aquatic park in Australia
Sources
↑ Donna Balancia, "A scary October at SeaWorld", Florida Today, September 29, 2007.
↑ Mike Celestino, "Video/Photos: SeaWorld San Diego Reopens for First Time in 2021 with Outdoor Exhibits and Shows Only", Laughing Place, February 9, 2021.
↑ Lori Weisberg, "BUSINESS: SeaWorld offers Sesame Street light parade drive-through-style", The San Diego Union-Tribune, January 21, 2021.
External links