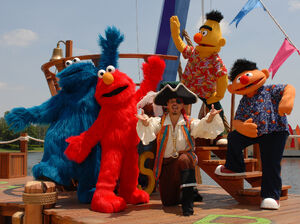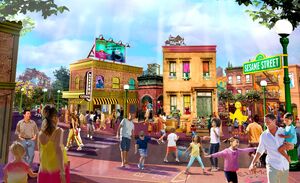 SeaWorld is a chain of aquatically-themed amusement parks owned by SeaWorld Parks & Entertainment.
SeaWorld Orlando
SeaWorld's park in Orlando, Florida debuted a new live show, Elmo and the Bookaneers, in early May 2007. In May 2008, the show was switched out with Elmo and Abby's Treasure Hunt. The park also offers character breakfast, "Breakfast with Elmo and Friends", offered daily from 9 am to 10 am, "which offers a delicious buffet served-up with character favorites."
"Character connection opportunities" happen throughout the day, for meet-and-greet.[1]
In May 2017, it was announced that a new, Sesame Street themed area would be added to the SeaWorld Orlando park, aimed with a 2022 open date.[2] A year later, an announcement was made that the new area, "Sesame Street at SeaWorld," would open in Shamu's Happy Harbor in 2019. The area will be designed after the Sesame Street set, with locales such as 123 Sesame Street and Hooper's Store, and will feature walk-around characters, wet and dry rides and a daily parade featuring the Muppet characters.[3]
SeaWorld San Diego
SeaWorld's park in San Diego, California also received a Sesame Street makeover for its 2008 season, beginning in March. This included several Sesame-themed rides in a new section called Sesame Street Bay of Play, which replaced Shamu's Happy Harbor, and attractions such as Sesame Street 4-D Movie Magic, which has been renamed "Lights, Camera, Imagination!" for US-audiences,[4] while gift shops across the park have begun to sell Sesame Place merchandise. Breakfast with Elmo and Friends is also available.[5] Listed below are the following rides found at Sesame Street Bay of Play.
Abby's Seastar Spin: a spinning teacup ride
Elmo's Flying Fish: a rotating flying attraction, similar to Disneyland's "Dumbo the Flying Elephant" ride
Oscar's Rockin' Eel: a rocking tugboat ride themed like an eel
In 2018, a version of the Neighborhood Street Party parade at Sesame Place debuted, titled the Sesame Street Party Parade.
Seasonal
For Halloween (2009-2010), their character breakfasts feature Count von Count.[6] Abby Cadabby's Halloween Adventure is a 4,000 sq ft pathway filled with interactive elements, where kids help find Abby's magic wand. In 2011, Count Von Count's Spooktacular Breakfast was offered as character dining.
A Sesame Street Christmas is a stage show added in December 2009. Character dining at the park was seasonally themed to "Elmo and Friends Christmas Breakfast". As of 2011, Orlando did not offer holiday character dining.
SeaWorld San Antonio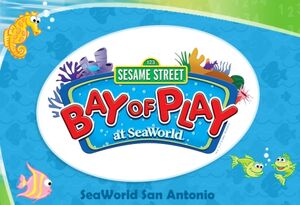 For the 2011 season, this park added Sesame Street Bay of Play, a three acre area of rides, shows, and play areas.[7] Listed below are the attractions found here.
Big Bird's Spinning Reef: a Ferris wheel
Elmo's Dolphin Dive: a vertical drop ride
Abby Cadabby's Rocking Wave: a ride that rocks forwards, backwards and sideways
Little Bird's Splash: a water area "where kids can play in 22 water elements such as bubblers, geysers, jets and dumping buckets."
In 2018, as with the San Diego SeaWorld, a version of the Neighborhood Street Party parade at Sesame Place debuted, titled the Sesame Street Party Parade.
Seasonal
In 2011, a Sesame Street Brunch ran as the character dining event. The 2009 show continued at Nautilus Amphitheater, while Elmo's Christmas Wish was added at Happening Stage.
See also
Sources