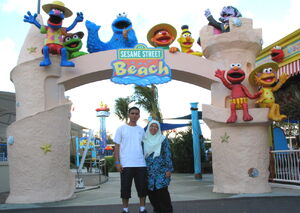 Sea World is a marine mammal park on the Gold Coast, Queensland, Australia.
A Sesame Street-themed section of the park, Sesame Street Beach, opened in September 2007 replacing a Cartoon Network themed area.[1]
Sesame Street Beach had a stage area called "Big Bird's Theatre". A live stage show, Bert and Ernie's Island Holiday, was performed several times a day. The show features walk-around versions of Bert and Ernie, Big Bird, Zoe, Grover, Cookie Monster and Elmo.
The area's Sesame Street theming was removed in 2011. As of 2018, the area is currently themed to Nickelodeon.
Rides include:
Big Bird Bounce (Newly opened ride. Renamed as Beach Ball Bounce in 2011, removed in 2015)
Cookie Monster Cup Carousel (Opened as Carousel in 1981, renamed back to former name in 2011, now known as Dora's Fiesta Carousel)
Elmo's Sea Subs (Opened as Airborne Barrel Brigade in 1999, renamed to Air Sea Explorer in 2011, now known as Boots' Banana Boogie
Bert & Ernie's Big Dive (Opened as Toon Point Lighthouse in 1999, renamed to Sea Climb, removed in 2015)
Grover's Flight School (Opened as Air-See Rescue in 1999, removed in 2011)
Oscar's Sweep the Beach (Opened as Woody's Dumptrucks in 1999, renamed to Beach Dump Trucks in 2011, removed in 2015)
Zoe's Sub Splash (Opened as Dexter's Time Machine in 1999. Renamed to Beach Break Bay Water Play Area in 2011, removed in 2015)
Gallery
Sea World is currently the only theme park in Australia to ever have Sesame Street themed attractions.[2]
See also
Sources
↑ "Sesame Street extends park presence", Park World Online. October 23, 2007.
↑ "SEA WORLD of Australia", Screamscape.
Community content is available under
CC-BY-SA
unless otherwise noted.