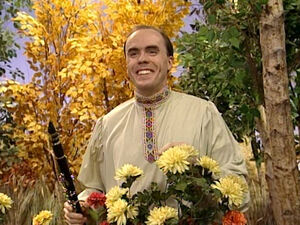 Sean McCourt is an actor, primarily on stage, who appeared in the Sesame Street direct-to-video special Elmo's Musical Adventure: Peter and the Wolf, as the clarinet soloist of the Boston Pops. He plays the same role in Baby Bear's imaginative depiction of the story, accompanying Oscar the Grouch (as the cat).
McCourt was in the original Broadway cast of Wicked in 2003, playing the minor roles of Elphaba's father and the Ozian official, and understudying the principal parts of the Wizard (filling in for Joel Grey for two weeks in 2004) and Doctor Dillamond (assuming the role for eight months, 2005-2006). He returned to Wicked off and on as late as 2013. McCourt had similar ensemble/understudy duties in Titanic (also playing the cello/double bass on-stage as a member of the ship's orchestra), the original cast of Mary Poppins (as Von Hussler and understudying Mr. Banks), and Women on the Verge of a Nervous Breakdown (with Brian Stokes Mitchell). Off-Broadway work includes Bat Boy: The Musical (as Dr. Parker, with Kerry Butler).
On TV, McCourt appeared on Ed, All My Children, and in several episodes of the Law & Order franchise. Around 2010, he shifted from acting into directing TV documentary or reality series such as Garbage Moguls, After the Catch, and Barnwood Builders (also producing and narrating the latter).
External links