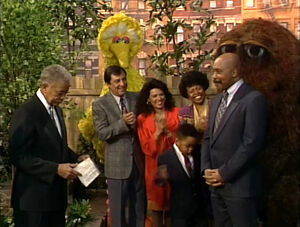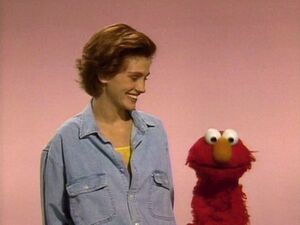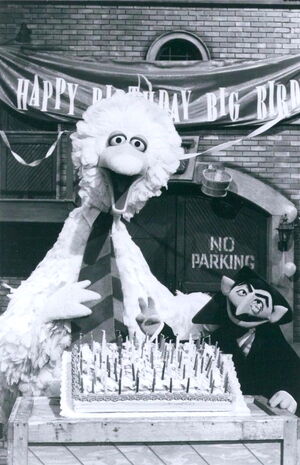 Sesame Street Season 22 aired from November 12, 1990, to May 10, 1991.
Overview
The theme for this season is about race, about getting along, and appreciating everyone's similarities and differences.[1] Dulcy Singer, the show's executive producer, said about this season's theme, "We're recognizing and celebrating cultural differences - talking about color of skin, hair texture, situations where a child might be left out from a group because of his color."[2]
Episodes
Episodes 2746 - 2875 (130 episodes)
Notes
This was the final season for Mike, Jelani, and Alex.
Starting this season, cold open scenes are used to set up the story lines of several episodes. This method would continue through Season 29.
Cast
Caroll Spinney, Frank Oz, Jerry Nelson, Richard Hunt, Martin P. Robinson, Kevin Clash, Camille Bonora, Fran Brill, David Rudman, Pam Arciero, Jim Martin, Judy Sladky, Fred Garbo, Bryant Young, Rick Lyon, Joey Mazzarino, Carmen Osbahr (uncredited: Kevin Carlson, Ed Christie, Barry Link, Peter MacKennan, Kathryn Mullen, Mark Zeszotek)
Marv Albert, María Conchita Alonso, Candice Bergen, Lee Chamberlin, Ray Charles, Chubby Checker, Glenn Close, Bill Cobbs, Tyne Daly, Geena Davis, Bo Diddley, David Dinkins, Roger Ebert, Wilhelmenia Fernandez, Frances Foster, Ernesto Gasco, Whoopi Goldberg, Jeff Goldblum, Kadeem Hardison, Phil Hartman, Charlayne Hunter-Gault, Bo Jackson, Victoria Jackson, Waylon Jennings, Kid 'n Play, Robert MacNeil, Branford Marsalis, Wynton Marsalis, Bobby McFerrin, Rhea Perlman, Lou Diamond Phillips, Tim Robbins, Julia Roberts, Steven Schub, The Simpsons, Gene Siskel, Jeff Smith, Randy Travis, Tracey Ullman, Blair Underwood, Malcolm-Jamal Warner, Robin Williams
Characters
Muppets

Alice Snuffleupagus, Anything Muppets, the Amazing Mumford, Athena, Baby Bear, Baby Natasha, Barkley, Benny Rabbit, Bert, Betty Lou, Biff, Big Bird, Big Jeffie, Bruno the Trashman, Buster the Horse, Chicago the Lion, Chip and Dip, Clementine, Cookie Monster, Count von Count, Dingers, Don Music, Elmo, Ernie, Flo Bear, Fluffy, Forgetful Jones, Gladys the Cow, Goldilocks, The Grand High Triangle Lover, Mrs. Grouch, Grover, Grundgetta, Guy Smiley, Herry Monster, Humphrey, Honkers, Hoots the Owl, Mr. Johnson, Juliet, Little Bird, Little Chrissy, The Martians, Merry Monster, Norman, The Oinker Sisters, Oscar the Grouch, Placido Flamingo, Polly Darton, Prairie Dawn, Preston Rabbit, Ruby, Rudder Rabbit, Sherlock Hemlock, Simon Soundman, Slimey, Mr. Snuffleupagus, Sonny Friendly, Stella, Sully, Telly Monster, Two-Headed Monster, Vincent Twice, Watson, Wolfgang the Seal
Credits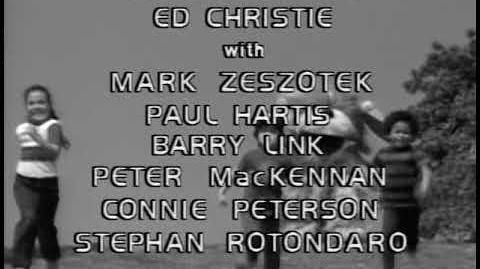 Executive Producer: Dulcy Singer
Producer: Lisa Simon
Directors: Jon Stone, Lisa Simon, Emily Squires
Head Writer: Norman Stiles
Writers: Judy Freudberg, Nancy Sans, Tony Geiss, Jeff Moss, Cathi Rosenberg-Turow, David Korr, Belinda Ward, Lou Berger, Sonia Manzano, Josh Selig, Sara Compton, Luis Santeiro, John Weidman, Molly Boylan, Emily Perl Kingsley, Mark Saltzman, Jon Stone, Jerry Juhl (uncredited)[3]
Supervising Film Producer: Edith Zornow
Coordinating Producer: Arlene Sherman
Associate Producer: Karin Young
Puppets, Costumes, Props: Caroly Wilcox, Ed Christie, with Mark Zeszotek, Paul Hartis, Barry Link, Peter MacKennan, Connie Peterson, Stephan Rotondaro
Music Coordinator: Danny Epstein
Associate Music Director: Dave Conner
Special Songs: Chris Cerf, Jeff Moss, Tony Geiss, Stephen Lawrence, Cheryl Hardwick, Sara Durkee, Paul Jacobs, Alan Menken, Dave Conner
Production Supervisor: Frieda Lipp
Editing Supervisor: Robert J. Emerick
Associate Directors: Ted May, Eulogio Ortiz Jr.
Production Designer: Victor DiNapoli
Costume Designer: Bill Kellard
Graphic Artist: Mike Pantuso
Set Decorator: Nat Mongioi
Art Director: Bob Phillips
Production Stage Managers: Chet O'Brien, Ric E. Anderson
Stage Manager: Mortimer J. O'Brien
Curriculum Coordinator: Diane P. Mitchell
Assistant to the Producers: Danette DeSena, Carol D. Mayes
Production Assistants: Cher Jung, Tim Carter, Gabrielle Howard, Leslie Brothers, Christine Ferraro
Script Coordinator: Thelma Moses
Children's Casting: Kim Wilson
Unit Manager: Eleanor McIntosh
Technical Director: Ralph Mensch
Lighting Director: Bill Berner
Sound Effects: Dick Maitland
Audio: Blake Norton, Tim Lester
Video: Martins Gaujenieks, Dick Sens
Cameras: Frank Biondo, Dave Driscoll
Videotape Editor: Evamarie Keller
Electronic Maintenance: Rolf Wahl
Make-Up: Lee Halls
Hair Stylist: Karen Specht
Wardrobe: Grisha Mynova, Colleen Noe
Assistant Vice President, Production Research: Valeria Lovelace, Ph.D.
Vice President, Production Research: Bettina Peel
Vice President for Research: Keith Mielke, Ph.D.
Chairman, Board of Advisors: Gerald Lesser, Ph.D.
Vice President for Production: Franklin Getchell
Facilities by Unitel Video, Inc.
Sources
Footnote
↑

For only this season, as well as for concurrent productions during 1990-91, the Sesame Street Muppets are referred to in credits as "Sesame Street Puppet Characters." The Muppet Performers themselves are credited as "Puppet Performers."