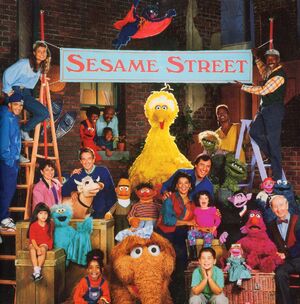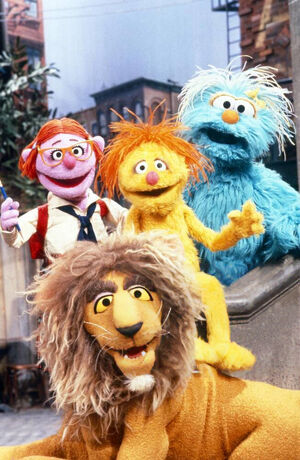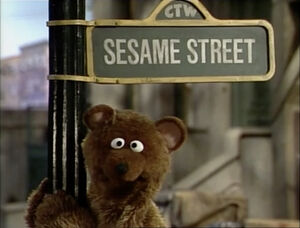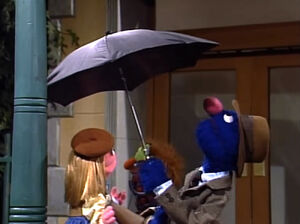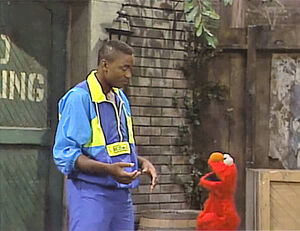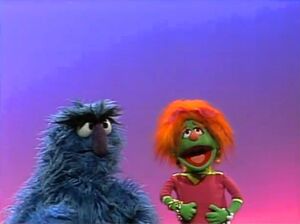 Sesame Street Season 23 aired from November 11, 1991, to May 8, 1992.
Overview
Season 23 continues its four-year curriculum on race relations with the focus on the American Indian this season. Young viewers will get to see how American Indian children live and recognize general cultural similarities and differences among American Indian nations. Big Bird and cast members travel to Pryor, Montana, to visit a Crow Indian reservation and witness an authentic Crow Indian naming ceremony for 7-year-old Francis Bear Claw.[1]
This season also introduces new Muppet characters such as Roxie Marie, a Latina monster named Rosita, Monty, Colambo, Baby Tooth and the Fuzzy Funk, and a vegetarian lion named Chicago.[1][2]
Episodes
Episodes 2876 - 3005 (130 episodes)
Notes
This was Richard Hunt's last season before his passing in January 1992. Hunt performed in several Street stories and inserts taped during the production year, most of which would air posthumously. He continued to be credited as a performer through Season 31.
This is the final season to include the funky instrumental refrain of the Sesame Street theme (used since 1972) during the funding credits.
In this season, and after Season 25, the closing credit sequence, which typically appeared on Friday episodes, is also shown during the season premiere.
For the first time since 1977, the Corporation for Public Broadcasting resumed funding Sesame Street, which would continue in succeeding seasons (except for Season 30).
Cast
Caroll Spinney, Frank Oz, Jerry Nelson, Richard Hunt, Martin P. Robinson, Kevin Clash, Fran Brill, David Rudman, Camille Bonora, Pam Arciero, Jim Martin, Judy Sladky, Fred Garbo, Bryant Young, Rick Lyon, Joey Mazzarino, Carmen Osbahr (Uncredited: Julianne Buescher, Louise Gold, Paul Hartis, Jim Kroupa, Peter Linz, Peter MacKennan, Noel MacNeal, Alison Mork, Kathryn Mullen)
Characters
Muppets

Alice Snuffleupagus, The Amazing Mumford, Anything Muppets, Baby Bear, Barkley, Baby Tooth and the Fuzzy Funk, Benny Rabbit, Bert, Big Bird, Chicago the Lion, Cookie Monster, Count von Count, Cyranose de Bergerac, Elmo, Ernie, Frazzle, Grover, Grundgetta, Honkers, Herry Monster, Hoots the Owl, Joey and Davey Monkey, Little Chrissy and the Alphabeats, Merry Monster, Monty, Nora Nicks, Oscar the Grouch, Polly Darton, Prairie Dawn, Preston Rabbit, Rosita, Roxie Marie, Ruby, Sherlock Hemlock, Mr. Snuffleupagus, Sonny Friendly, Telly Monster, Two-Headed Monster, Vincent Twice, Watson
Credits
Executive Producer: Dulcy Singer
Producer: Lisa Simon
Directors: Emily Squires, Jon Stone, Lisa Simon, Ted May
Head Writer: Norman Stiles
Writers: Nancy Sans, Judy Freudberg, Tony Geiss, Sonia Manzano, Cathi Rosenberg-Turow, Belinda Ward, Lou Berger, David Korr, Josh Selig, Jeff Moss, John Weidman, Sara Compton, Luis Santeiro, Molly Boylan, David Johnson, Joe Mazzarino, Ian James, Emily Perl Kingsley, Mark Saltzman, Jon Stone
Coordinating Producer: Arlene Sherman
Associate Producers: Karin Young, Carol D. Mayes
Muppets, Costumes, Props: Ed Christie, with Mark Zeszotek, Paul Hartis, Laurent Linn, Peter MacKennan, Connie Peterson, Stephan Rotondaro, Caroly Wilcox
Music Coordinator: Danny Epstein
Associate Music Director: Dave Conner
Special Songs: Chris Cerf, Jeff Moss, Tony Geiss, Stephen Lawrence, Cheryl Hardwick, Sarah Durkee, Paul Jacobs, Dave Conner
Production Supervisor: Frieda Lipp
Editing Supervisor: Robert J. Emerick
Associate Directors: Robert J. Emerick, Arlene Sherman, Ted May, Eulogio Ortiz Jr., Cher Jung, Diane P. Mitchell, Craig Bigelow
Production Designer: Victor DiNapoli
Costume Designer: Bill Kellard
Assistant Costume Designer: Terry Roberson
Graphic Designer: Mike Pantuso
Set Decorator: Nat Mongioi
Art Director: Bob Phillips
Production Stage Managers: Chet O'Brien, Ric E. Anderson
Stage Managers: Mortimer J. O'Brien, Hank Smith, Rose Riggins
Curriculum Coordinator: Diane P. Mitchell
Assistant to the Producers: Danette DeSena
Production Assistants: Cher Jung, Tim Carter, Gabrielle Howard, Leslie Brothers, Christine Ferraro, Ruth Luwisch, Carol-Lynn Parente
Script Coordinator: Thelma Moses
Children's Casting: Kim Wilson
Unit Manager: Eleanor McIntosh
Technical Director: Ralph Mensch
Lighting Director: Bill Berner
Sound Effects: Dick Maitland
Audio: Blake Norton, Tim Lester
Video: Dick Sens
Cameras: Frank Biondo, Dave Driscoll
Videotape Editor: Evamarie Keller
Electronic Maintenance: Rolf Wahl
Make-Up: Lee Halls
Hair Stylist: Karen Specht
Wardrobe: Colleen Noe
Assistant Vice President, Production Research: Valeria Lovelace, Ph.D.
Vice President, Production Research: Bettina Peel
Vice President for Research: Keith Mielke, Ph.D.
Chairman, Board of Advisors: Gerald Lesser, Ph.D.
Vice President for Production: Franklin Getchell
Facilities by Unitel Video, Inc.
Remote Facilities by Videocenter of New Jersey (2885)
Sources