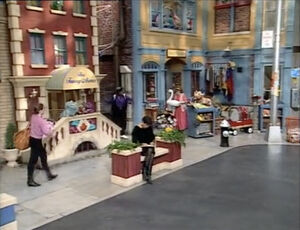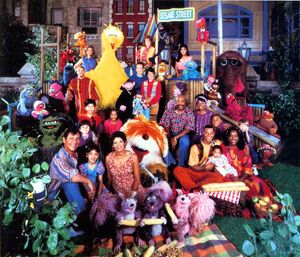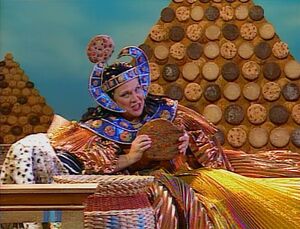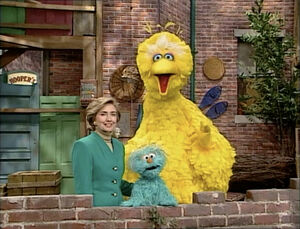 Sesame Street Season 25 aired from November 22, 1993 to May 20, 1994.
Overview
Starting this season, Sesame Street expands their street to Around the Corner. Sonia Manzano said about this whole new block of locations, "By expanding the street and going around the corner, we will have other places to hang out beyond the stoop of 123 Sesame Street, and we will be able to explore family issues which we think are so important to kids today." This season also introduces new human characters and (mostly female) Muppet characters. Michael Loman: "We've been criticized in the past for not having enough female puppets on the show. And I think that's an accurate criticism. And this specifically seeks to address that."[1]
Episodes
Episodes 3136 - 3265 (130 episodes)
Notes
Episodes 3136-3200 and 3238 were shown as a part of Noggin's 123 Sesame Street package from 1999 until 2003.
This was also Jon Stone's final season as primary director for the series. After the season finale, Stone left the show due to health problems relating to Lou Gehrig's disease. Stone passed away in 1997.
Starting with this season, the colors on the set, such as Big Bird's doors or the checkers on Hooper's Store, are much more vibrant and bright, giving the set a more child-friendly atmosphere.
This was the first season taped at Kaufman Astoria Studios in Queens, New York.
This season introduces Zoe to the cast.
Starting with this season, the closing credit sequence, which typically appeared on Friday episodes, is also shown during the season premiere.
Cast
Human Cast:
Muppets:
Alice Snuffleupagus, Anything Muppets, Baby Bear, Baby Natasha, Benny Rabbit, Bert, Biff, Big Bird, Buster the Horse, Chicago, Clementine, Cookie Monster, Count von Count, Cyranose de Bergerac, Elmo, Ernie, Forgetful Jones, Frazzle, Gladys the Cow, Grover, Guy Smiley, Herry Monster, Honkers, Hoots the Owl, Humphrey, Ingrid, Kermit the Frog, Kingston Livingston III, The Martians, Merry Monster, Monty, Oscar the Grouch, Prairie Dawn, Rosita, Roxie Marie, Sherlock Hemlock, Sherry Netherland, Slimey, Mr. Snuffleupagus, Sully, Telly Monster, Zoe
Caroll Spinney, Pam Arciero, Camille Bonora, Fran Brill, Julianne Buescher, Kevin Clash, Bruce Connelly, Stephanie D'Abruzzo, Louise Gold, Peter Linz, Rick Lyon, Noel MacNeal, Jim Martin, Brian Muehl, Joey Mazzarino, Jerry Nelson, Carmen Osbahr, Frank Oz, Martin P. Robinson, David Rudman, Judy Sladky, Steve Whitmire, Bryant Young
Credits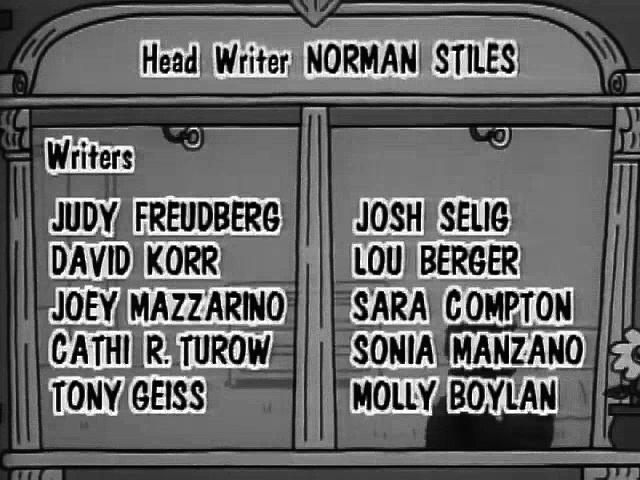 Executive Producer: Michael Loman
Supervising Producer: Lisa Simon
Directed by Lisa Simon, Jon Stone
Head Writer: Norman Stiles
Writers: Judy Freudberg, David Korr, Joey Mazzarino, Cathi R. Turow, Tony Geiss, Josh Selig, Lou Berger, Sara Compton, Sonia Manzano, Molly Boylan, Mark Saltzman, Luis Santeiro, Belinda Ward, Nancy Sans, John Weidman, Ian Ellis James, Emily Perl Kingsley, Jon Stone
Coordinating Producer: Arlene Sherman
Production Designer: Victor Di Napoli
Costume Designers: Bill Kellard, Terry Roberson
Muppets, Costumes, Props: Ed Christie with Peter MacKennan, Mark Zeszotek, Laurent Linn, Mark Ruffin, Carlo Yannuzzi, Fred Buchholz Rollie Krewson, Connie Peterson, Stephen Rotondaro
Muppet Coordinator: Kevin Clash
Associate Producers: Carlos Dorta, Karin Young Shiel
Music Director: Robby Merkin
Associate Music Director: Dave Conner
Music Coordinator: Danny Epstein
Special Songs: Chris Cerf, Jeff Moss, Tony Geiss, Stephen Lawrence, Sarah Durkee, Paul Jacobs, Dave Conner, Joe Raposo
Music Arrangements and Conducting: Dave Conner, Paul Jacobs, Stephen Lawrence, Robby Merkin, Joe Raposo
Graphic Designers: Mike Pantuso, Pete Ortiz
Set Decorators: Nat Mongioi, Michael J. Kelley
Art Director: Bob Phillips
Associate Directors: Ted May, Robert J. Emerick
Production Assistants: Tim Carter, Heather L. Dick, Kim J. Kennedy, Melissa Dino, Karen Ialacci, Pamela Liu, Ruth Luwisch, Carol-Lynn Parente, Nina Shelton, Teri Weiss
Sound Effects: Dick Maitland
Audio: Blake Norton, Tim Lester
Cameras: Frank Biondo, Dave Driscoll
Creative Consultant: Jon Stone
Assistant Vice President, Production Research: Valeria Lovelace, Ph.D.
Chairman, Board of Advisors: Gerald Lesser, Ph.D.
Group Vice President Production: Marjorie Kalins
Senior Vice President for Production: Franklin Getchell
Taped at Kaufman Astoria Studios in New York
Sources
↑ Bangor Daily News: 'Sesame Street' to change while entering 25th season - August 2, 1993
Community content is available under
CC-BY-SA
unless otherwise noted.