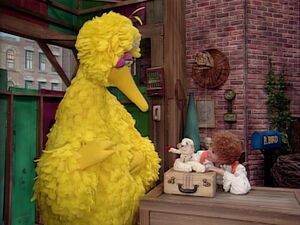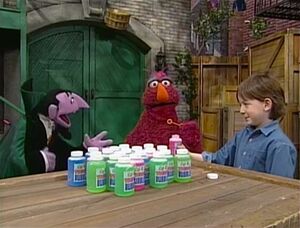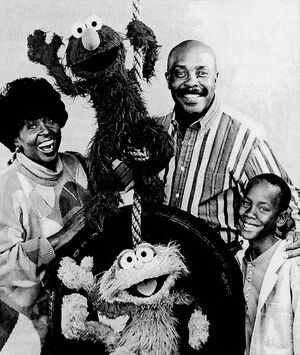 Sesame Street Season 27 aired from November 20, 1995 to May 17, 1996.
Overview
This season is considered to be the "experimental season" - it is "increasingly presenting its lessons in overlapping ways, to reach those whose learning may be more closely tied to musical or mathematical abilities than linguistic ones."[1]
Show Format
Valeria Lovelace said about the show's new format for each episode, "Lessons on one topic are to be clustered during an hour rather than spread out through the show as they have been. One show in January, for example, will portray the letter "D" in three consecutive segments: first it's marked out in candles, then it's depicted in a sand animation, and finally it's shown growing out of the ground. This will be followed by three segments on another topic, rain. First, Ernie and the Twiddlebugs go out in the rain, then there is a rain dance in clay animation, and finally rain and wind are rendered in Chinese calligraphy. In addition to being clustered, these segments are in tune with the new approach because they stress not only the visual and the verbal but also musical, interpersonal and spatial relationships."[1]
Episodes
Episodes 3396 - 3525 (130 episodes)
Notes
Starting this season, each episode ends with a preview of the next episode. Big Bird appears announcing "Coming Soon on Sesame Street," followed by a clip of a Street scene or insert from said episode. After this, Big Bird says, "Toodle-oo" and the funding credits are shown. The "coming soon" teasers were dropped in season 30.
This was the first season since Season 2 to have one letter and number as sponsors.
This was also the first season to give the sponsors twinkling sound effects at the end of each episode.
Starting with this season and lasting through Season 33 (2002), the main closing music at the end of episodes is a remix of the original Sesame Street opening theme from 1969 (replacing the calypso-flavored rendition heard at the end of episodes for the past two seasons). This version retains the sung verses by The Kids, features a new harmonica solo, and closes out with the ending from Toots Thielemans's original harmonica closing.
Cast
Caroll Spinney, Frank Oz, Jerry Nelson, Martin P. Robinson, Kevin Clash, Fran Brill, David Rudman, Joey Mazzarino, Carmen Osbahr, Pam Arciero, Camille Bonora, Peter Linz, Noel MacNeal, Judy Sladky, Jim Martin, Bryant Young, Lisa Buckley, Bruce Connelly, Louise Gold (Uncredited: Alice Dinnean, Rick Lyon, Steve Whitmire)
Characters
Muppets

Alice Snuffleupagus, Anything Muppets, Baby Bear, Baby Tooth and the Fuzzy Funk, Barkley, Betty Lou, Benny Rabbit, Bert, Big Bird, Cookie Monster, The Count, Cyranose de Bergerac, Elmo, Ernie, Grover, Grundgetta, Guy Smiley, Herry Monster, Irvine, Kermit the Frog, Kingston Livingston III, Mama Bear, Mrs. Grouch, Mommy Snuffleupagus, Oscar the Grouch, Papa Bear, Prairie Dawn, Renata Scottie, Rosita, Sally Messy Yuckyael, Sherlock Hemlock, Slimey, Mr. Snuffleupagus, Stinky the Stinkweed, Telly, Wolfgang the Seal, Zoe
Credits
Executive Producer: Michael Loman
Supervising Producer: Lisa Simon
Producer: Arlene Sherman
Directors: Emily Squires, Lisa Simon, Ted May, John Ferraro, Steven Feldman, Chris Kelly, Gary Shimokawa, Victor DiNapoli
Head Writer: Norman Stiles
Writers: Judy Freudberg, Lou Berger, Joey Mazzarino, Cathi R. Turow, Josh Selig, Tony Geiss, David Korr, Sonia Manzano, Nancy Sans, Molly Boylan, Sara Compton, Christine Ferraro, Jeff Moss, Adam Rudman, Ian Ellis James, Luis Santeiro, Belinda Ward, Emily Perl Kingsley, Mo Willems, John Weidman
Line Producer: Yvonne Hill Ogunkoya
Production Designer: Victor DiNapoli
Lighting Designer: Bill Berner
Costume Designers: Bill Kellard, Terry Roberson
Muppets, Costumes, Props: Ed Christie, with Mark Zeszotek, Stephen Rotondaro, Lara MacLean, Mark Ruffin, Carlo Yannuzzi, Fred Buchholz, Ann Marie Holdgruen, Larry Jameson, Tom Newby
Associate Producers: Carlos Dorta, Teri Weiss
Music Director: Robby Merkin
Associate Music Director: Dave Conner
Music Coordinator: Danny Epstein
Original Songs and Arrangements: Chris Cerf, Dave Conner, Sarah Durkee, Tony Geiss, Paul Jacobs, Gail Sky King, Stephen Lawrence, Robby Merkin, Jeff Moss, Joe Raposo
Graphic Designers: Mike Pantuso, Pete Ortiz
Set Decorator: Nat Mongioi
Art Director: Bob Phillips
Production Supervisor: Frieda Lipp
Editing Supervisor: Robert J. Emerick
Production Stage Manager: Charles Raymond
Stage Managers: Chris Kelly, Hank Smith
Curriculum Coordinator: Cher Jung
Talent Coordinator: Danette DeSena
Production Associates: Tim Carter, Melissa Dino
Production Assistants: Heather L. Dick, Kim J. Kennedy, Pamela Liu, Ruth Luwisch, Ted Pierson, Jason Schneider
Children's Casting: Gabrielle Howard
Production Coordinator: Karen Ialacci
Post-Production Coordinator: Carol-Lynn Parente
Script Coordinator: Thelma Moses
Technical Director: Ralph Mensch
Sound Effects: Dick Maitland
Audio: Blake Norton
Second Audio: Carla Bandini
Video: Dick Sens
Cameras: Frank Biondo, Dave Driscoll, Mark Whitman
Videotape Editors: Evamarie Keller, Dawn DeSimone, John Tierney
Make-Up: Joe Cuervo
Hair Stylist: Karen Specht
Wardrobe: Colleen Noe
Scenic Artist: Pamela Lenau
Production Accountant: Marta Palko
Script Typists: Tom Harris, Lynda Holder
Opening Sequence: Balsmeyer & Everett, Inc.
Assistant Vice President, Production Research: Valeria Lovelace, Ph.D.
Chairman, Board of Advisors: Gerald Lesser, Ph.D.
Senior Vice President for Production: Marjorie Kalins
NEP Facilities: Tom Carey, Dean Pearson, John Seminario
Post Production by Windsor Video
Taped at Kaufman Astoria Studios in New York
Sources