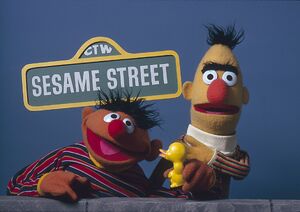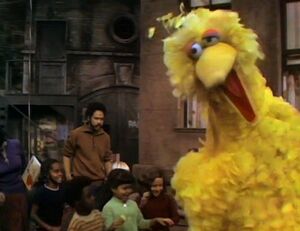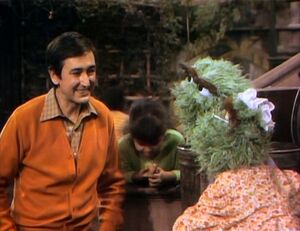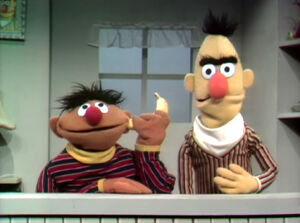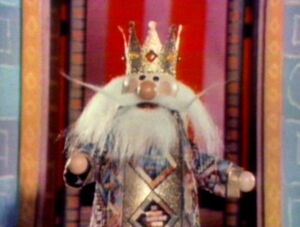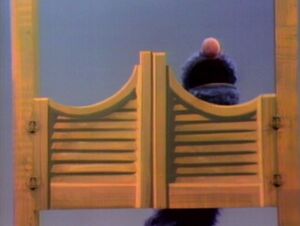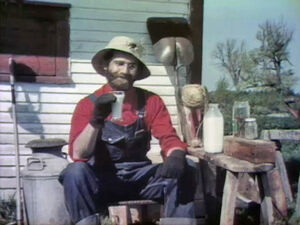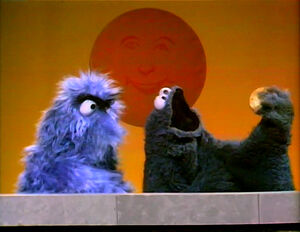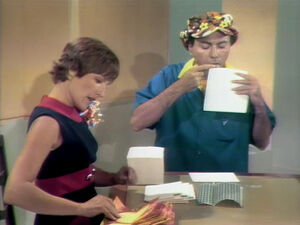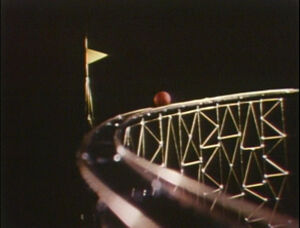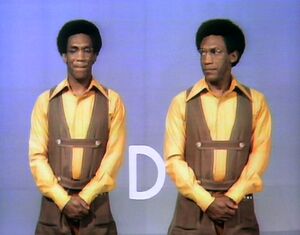 Sesame Street Season 2 aired from November 9, 1970 to May 28, 1971.
Characters
Much of the original cast and Muppets established in the first season are present during the second season, though some would go through changes. The main cast of Bob, Gordon, Susan and Mr. Hooper remain the human hosts on the Street, and are now joined by Tom and Miguel (the show's first Latino character). The comedy duo Buddy and Jim is replaced by Larry and Phyllis, whose segments focused on the importance of cooperation. Maria and David join the cast later in the season.
Big Bird and Oscar the Grouch return as the two major puppet characters on the Street, and both have been redesigned. Big Bird loses the dopey "hick" aspect of his character from the first year and begins to act more like a child rather than a slow-witted adult. Oscar still retains his grouchiness, but his fur has been changed from short orange shag to longer green fur.
Four of the more popular Muppets used in inserts -- Ernie, Bert, Cookie Monster and Grover -- all return for the second season. Kermit the Frog, however, is dropped from the cast (though he would still appear in segments from the first year), and in his place are new Muppet characters such as the burly Herry Monster, Herbert Birdsfoot (who, like Kermit, would conduct lectures, often in the company of Grover), Sherlock Hemlock (a detective who often arrives at unusual deductions or small clues), Simon Soundman and children Farley and Prairie Dawn. Most of the puppets from the first season that had been used in previous productions, including The Ed Sullivan Show (such as Beautiful Day Monster and the Snerfs), no longer appear.
Segments
The "magazine format" of inserts continued to be used, and several new recurring film, cartoon, and studio series appear for the first time. These include the "Larry and Phyllis" segments, the Today's Secret Drawing animations, and George the Farmer.
Curriculum
New topics were added to the curriculum that were established for the first season, while some of the original topics were expanded. The second season focused on:
numbers from one to twenty
sight words (including street signs) and letter blending, as sometimes demonstrated by The Word Family Song. Among the words that were featured include "stop", "exit", and "bus stop", as well as words used in everyday conversation such as "the" and "is".
simple addition and subtraction
multiple classification (such as the games of "One of These Things" in episode 0198)
regrouping
property identification
the mind and its uses: remembering, thinking, hoping, and imagining
conflict resolution [1]
In addition to these topics, the show sometimes focused on Latino-American culture with Spanish sight words and phrases, such as "pare" "calle", and "ven aqui".[2]
Episodes
Episodes 0131 - 0275 (145 episodes)
Season 2 Cast
Cast:
Puppets by:
Muppets:
Big Bird, Oscar the Grouch, Ernie, Kermit the Frog, Bert, Cookie Monster, Grover, an early version of Herry Monster, Roosevelt Franklin, Roosevelt Franklin's Mother, Guy Smiley, Little Bird, Sherlock Hemlock, Herbert Birdsfoot, Granny Grouch, The Busby Twins, Professor Hastings, Little Jerry and the Monotones, Prairie Dawn, Betty Lou, Lefty the Salesman, Farley, Granny Fanny Nesselrode, Simon Soundman, Anything Muppets
Guest Stars
Arte Johnson, Bill Cosby, Carol Burnett, Cast of Bonanza, Listen, My Brother
Notes
This is the first season to have a certain closing credit sequence on Friday episodes, rather than having the action continue while the credits rolled. (This season's credit crawl featured several still shots of children's paintings.)
This is the only season produced with 145 episodes.
Season 2 Credits
Executive Producers: David D. Connell
Producer: Jon Stone
Studio Producer: Lutrelle Horne
Directed by: Robert Myhrum
Writers: Jeff Moss, Jerry Juhl, Emily Perl Kingsley, Bob Oksner, Ray Sipherd, Daniel Wilcox
Muppet Costume Designer: Caroly Wilcox
Film Producer: Shyrlee Dallard
Film Consultant: Edith Zornow
Associate Producers: Dulcy Singer, Joan Lufrano, Danny Benson
Director of Operations: Ronald L. Weaver
Production Supervisor: Lynn Klugman
Assistants to the Producers: Emily Squires, Mary Bauer
Production Assistants: Lisa Simon, Bill E. Smith, Jimmy Baylor
Music Director: Joe Raposo
Music Coordinator: Danny Epstein
Special Songs: Jeffrey Moss, Joe Raposo
Art Director: Alan J. Compton
Costume Designer: Mostoller
Production Stage Manager: Chet O'Brien
Property Coordinator: Nat Mongioi
Director of Research: Edward L. Palmer
Chairman, Board of Advisors: Gerald S. Lesser, Ph.D.
Audio: Mike Shoskes
Sound Effects: Dick Maitland
Recorded by Teletape at Second Stage
Sources
↑ Truglio and Fisch. G is for Growing. p. 31
↑ Sesame Street Magazine Parents' Guide, 1970.
Community content is available under
CC-BY-SA
unless otherwise noted.