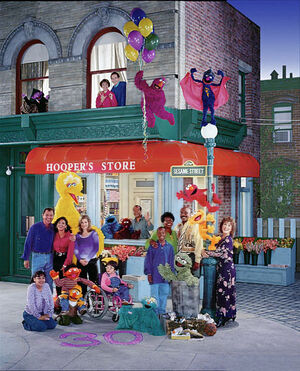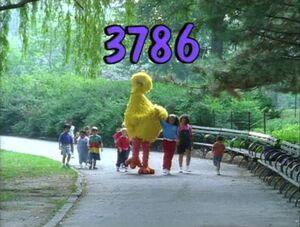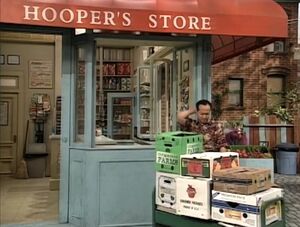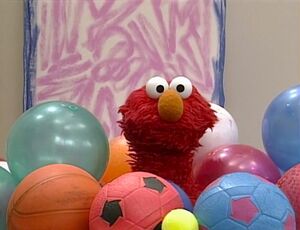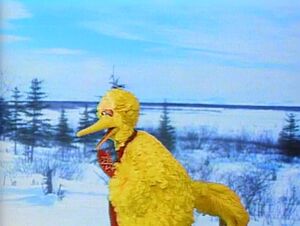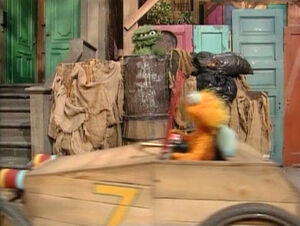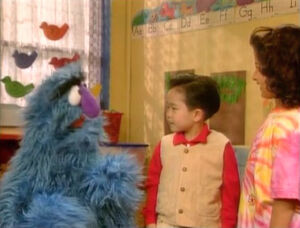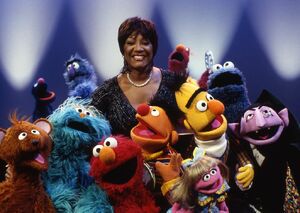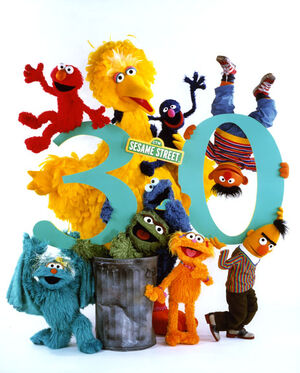 Sesame Street Season 30 aired from November 16, 1998 to May 7, 1999.
Overview
Starting this season, the focus would be geared toward the main cast of characters. Also, the season emphasizes the use of classic Sesame Street songs, such as "Sing" and "The People in Your Neighborhood", for the idea of getting kids to sing along and familiarize with the songs and also to attract parents who were fans when they were young.[1]
Episodes
Episodes 3786 - 3850 (65 episodes)
Notes
The opening theme sequence has once again changed to a more traditional version of the tune, resembling the original opening theme. The "dancing city" closing credits from 1992 remain in use.
The Sesame Street sign has a new look beginning with this season, with a thinner yellow border and a rounder half-circle containing the "CTW" in it. It replaced the original Sesame Street sign that had been used since the very first episode.
The episodes are no longer followed by a "Coming soon on Sesame Street" bumper. Instead, there is a copyright disclaimer that is shown. However, the ending from these bumpers, with Big Bird saying "Toodle-oo!" to the camera, remains in place. Likewise, this was also the last season to use the blue curtain to show the fundings after Big Bird closed the show.
This was Jeff Moss's final season as a writer on the show, having passed away nearly two months prior to the season premiere. Moss receives a posthumous writing credit for this and the following season.
This was also Robby Merkin's final season as music director.
All episodes in this season were shown in one of Noggin's 123 Sesame Street rotations from 2003 to 2005.
This was the first season to have only 65 episodes.
Cast
Caroll Spinney, Kevin Clash, Frank Oz, Jerry Nelson, Martin P. Robinson, Fran Brill, David Rudman, Joey Mazzarino, Carmen Osbahr, Steve Whitmire, Alice Dinnean, Pam Arciero, John Tartaglia, Matt Vogel, Bryant Young, Judy Sladky, R. Bruce Connelly, Stephanie D'Abruzzo, Jim Martin, Lisa Buckley, (Uncredited: Tyler Bunch, Eric Jacobson, Jim Kroupa, Noel MacNeal)
Characters
Muppets
Alice Snuffleupagus, The Amazing Mumford, Anything Muppets, Baby Bear, Baby Natasha, Barkley, Benny Rabbit, Bert, Biff, Big Bird, Cookie Monster, Count von Count, Dingers, Elizabeth, Elmo, Ernie, Grover, Guy Smiley, Herry Monster, Honkers, Hoots the Owl, Humphrey, Ingrid, Irvine, Mr. Johnson, Kermit the Frog, Little Chrissy, Mama Bear, Old MacDonald, Oliver, Oscar the Grouch, Papa Bear, Prairie Dawn, Rosita, Slimey, Mr. Snuffleupagus, Stinky the Stinkweed, Sully, Telly Monster, Zoe
Credits
Executive Producer: Michael Loman
Supervising Producer: Arlene Sherman
Coordinating Producer: Carlos Dorta
Directors: Emily Squires, Ted May, Regge Life, Steven Feldman, Victor DiNapoli, Ken Diego
Head Writer: Lou Berger
Writers: Sara Compton, Christine Ferraro, Judy Freudberg, Tony Geiss, David Korr, Joey Mazzarino, Jeff Moss, Luis Santeiro, Josh Selig, Cathi R. Turow, Molly Boylan, Annie Evans, Ian Ellis James, Emily Kingsley, Sonia Manzano, Adam Rudman, Nancy Sans, Belinda Ward, John Weidman, Mo Willems
Script Consultant (Elmo's World): Judy Freudberg
Co-Producer: Teri Weiss
Line Producer: Karen Ialacci
Talent Supervisor: Danette DeSena
Associate Producers: Melissa Dino, Tim Carter, Carol-Lynn Parente
Production Designer: Victor DiNapoli
Lighting Designers: Dan Kelley, Bill Berner
Costume Designers: Bill Kellard, Terry Roberson
Muppets, Costumes, Props: Ed Christie, Mark Zeszotek, with Carol Binion, Naomi Eisenstadt, Rollie Krewson, Fred Buchholz, Michelle Hickey, Lara MacLean, Connie Peterson, Stephen Rotondaro, Jason Weber, Karena Wienands, Carlo Yannuzzi
Music Director: Robby Merkin
Associate Music Director: Dave Conner
Music Coordinator: Danny Epstein
Original Songs and Arrangements: Chris Cerf, Dave Conner, Sarah Durkee, Tony Geiss, Paul Jacobs, Stephen Lawrence, Robby Merkin, Jeff Moss, Mike Renzi, Joe Raposo, Dan Sovak
Art Director: Bob Phillips
Senior Graphic Designer: Mike Pantuso
Graphic Designer: Pete Ortiz
Set Decorator: Nat Mongioi
Editing Supervisor: Robert J. Emerick
Associate Directors: Ted May, Ken Diego, Tim Carter, Carol-Lynn Parente, Teri Weiss, Cher Jung
Production Stage Manager: Frieda Lipp
Stage Managers: Chris Kelly, Anne Wallace
Unit Manager: Chari Topol-Allison
Curriculum Coordinator: Cher Jung
Senior Production Associates: Heather L. Dick, Kim J. Kennedy
Children's Casting: Theresa Anderson
Post-Production Coordinator: Pamela P. Liu
Production Assistants: Tracey Black, Kristen Woods, Victoria Gross, Conrad Ford, Vicki Newman
Technical Director: Ralph Mensch
Sound Effects: Dick Maitland
Audio: Blake Norton
Second Audio: Carla Bandini
Video: Dick Sens
Cameras: Frank Biondo, Jimmy O'Donnell, Mark Whitman
Videotape Editors: John Tierney, Tony D'Alauro, Roy Schneider
Make Up: Joe Cuervo
Hairstylist: Karen Specht
Wardrobe: Marilyn Bishop
Scenic Artist: Jill Sternberg
Stagehands: Steve Dannenberg, Craig Evans, Steve Ruggerio
Utility: Chuck Tutino, Gordon Price
Boom: Mike Cunningham
Tape: Ernie Albritton
Accountant: Kalombo Tshimanga
Production Secretaries: Rodeena S. Kirton, Lien Fu
Script Supervisor: Jill Zoeller
Script Coordinator: Lynda Holder
Script Production Assistant: Tom Harris
Group President - Television, Film & Video: Alice Cahn
Vice President of Research: Joel Schneider, Ph.D.
Director of Research: Rosemarie T. Truglio, Ph.D.
Researchers: Ivelisse Segui-Baez, Ph.D., Lisa Chen, Ph.D., Sarah Valmai Gruber
NEP Facilities: Sal Morreale, Greg Zaremba
Post Production by Unitel Post 38, iXL Video, New York
Taped at Kaufman Astoria Studios in New York
Sources
Community content is available under
CC-BY-SA
unless otherwise noted.