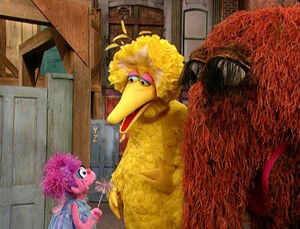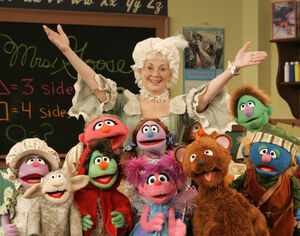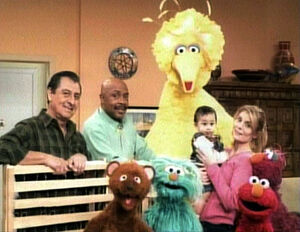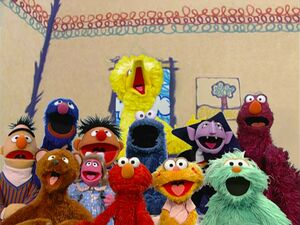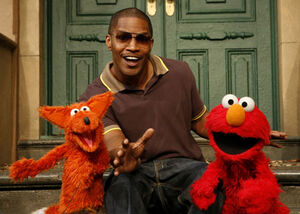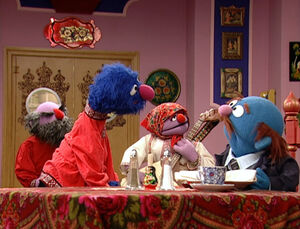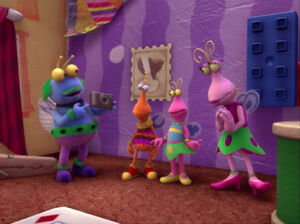 Sesame Street Season 37 premiered on August 14, 2006.
Overview
The 37th season of Sesame Street focuses on getting kids ready for school and the classroom experience. The season featured the debut of a new female Muppet character named Abby Cadabby, who introduces herself in the cold open of the season's first two episodes (4109 and 4110), as a fairy in training who recently moved to Sesame Street. Every other episode begins with a cold open featuring Grover, Elmo and Zoe singing "You never know who you'll meet on Sesame Street!" followed by Gordon announcing who the viewer will meet in today's episode.
The season introduced a new human character to the street - Marco, Gina's new baby. A three-episode storyline (beginning in 4130) followed the adoption of Marco from Guatemala. Gina's adopting of Marco allowed Sesame Street to deal with issues of international adoption and non-traditional families. He appeared in a couple episodes the following two seasons but did not appear again until season 42. As a new baby was introduced to the show this season, the previous Sesame Street children, Miles and Gabi, entered adulthood as they graduated from high school (in 4112).
Episodes in season 37 featured a "This Is the Game Today" bumper introducing game or physical movement segments, and one episode showed the return of the Twiddlebugs (in computer-animated form).
New Elmo's World segments for its eighth season include the subjects of Friends, Penguins, Doctors, Building Things, Horses, and Fast & Slow. New installments of "Global Grover" include visits to Germany, Bangladesh, the Philippines, Iceland, and Hawaii.
Starting in this season, the Fix-It Shop turned Mail-It Shop is now the Fix-It Shop once more, with no on-screen reason why.
Parodies
Parody sketches and segments include Scramalot (a Grouch parody of the musical Spamalot), Survivor: Musical Chairs (a parody of the reality show Survivor), Outrageous Makeover: Home Addition (a parody of Extreme Makeover: Home Edition), Law and Order: Special Letters Unit (a parody of Law & Order: Special Victims Unit) and the song "The Breakfast Club" (a parody of the film The Breakfast Club). Several new Dinner Theatre sketches include "What We're Having for Dinner" (a parody of Guess Who's Coming to Dinner), "Man of La Muncha" (a parody of Man of La Mancha) and "Omelet, Prince of Dinner" (a parody Hamlet).
Episodes
Episodes 4109 - 4134 (26 episodes)
Notes
4109 -- Gina adopts a baby
4110 -- Gina brings the baby home
4123 -- Abby Cadabby comes to Sesame Street
4129 -- Abby starts school for the first time
Cast
Caroll Spinney, Pam Arciero, Heather Asch, Jennifer Barnhart, Fran Brill, Tyler Bunch, Leslie Carrara-Rudolph (uncredited), Kevin Clash, R. Bruce Connelly, Stephanie D'Abruzzo, Ryan Dillon, Eric Jacobson, Peter Linz, Noel MacNeal, Amanda Maddock, Jim Martin, Joey Mazzarino, Jerry Nelson, Carmen Osbahr, Frank Oz, Martin P. Robinson, David Rudman, Matt Vogel, Steve Whitmire, Bryant Young
Characters
Muppets
Abby Cadabby, Anything Muppets, Baby Bear, Bert, Big Bird, Cookie Monster, Count von Count, Mrs. Crustworthy, Curly Bear, David Letterguy, The Elephant, Elmo, Ernie, Fairy Godperson, Grover, Grundgetta, H-Man, Hansel and Gretel, Herb, Honkers, Hoots the Owl, Jack and Jill, Jamie Fox, Mr. Johnson, Little Red Riding Hood, Mama Bear, Murray Monster, Old MacDonald, Oscar the Grouch, Papa Bear, Mr. Pattern, Peter Piper, Prairie Dawn, Rosita, Slimey, Mr. Snuffleupagus, Telly Monster, Zoe
Credits
External Links