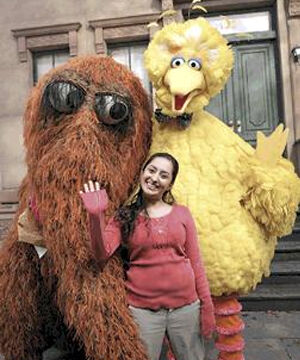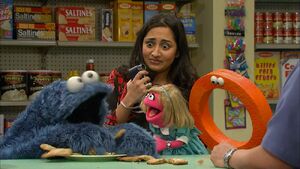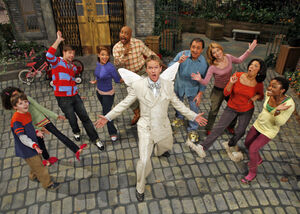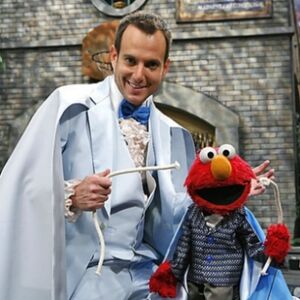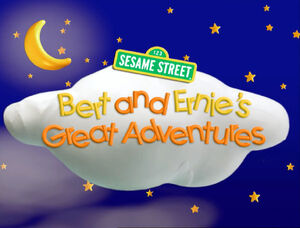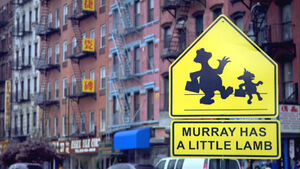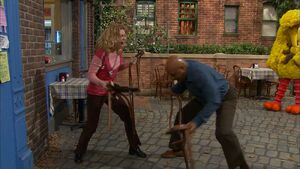 Sesame Street Season 39 premiered on August 11, 2008.
Overview
The curriculum for Season 39 focused on math literacy "designed to help children put their mathematical thinking into words and talk about how they solve problems." Math literacy is featured in many scenes (including Episode 4161, Episode 4163, Episode 4166, and Episode 4168).[1]
The show also got a brand new set this season, with a smaller size and more inner-city details, such as parking meters and newspaper dispensers. Major additions to the set included the Fix-It-Shop being replaced by the Sesame Street laundromat, and the place in the arbor where Gina did her veterinarian practice was reverted to a car garage. The set also got a larger garden in the arbor and the staircase and extra door that were previously there had been removed. Also, Hooper's Store was re-done as well, with a different wall color, refrigeration, and big signs indicating the products underneath them (Groceries, Newspapers, Cold Food & Drinks) and the awning now has stripes.
Season 39 welcomed a new human character to the cast, Leela, who runs the laundromat.[2] Two new segments were added to the season: Murray Has a Little Lamb and Bert and Ernie's Great Adventures. Returning this season were The Word of the Day and What's the Word on the Street with 26 new words and Muppets sometimes helping the guest(s) present the words. Also, Elmo's World returned for its tenth season as a regular Sesame Street segment with two new segments: Drums and Eyes.[3]
Parodies
Parodies included "30 Rocks" (based on 30 Rock), "Pre-School Musical" (High School Musical) and "Are You Smarter Than an Egg Layer" (Are You Smarter Than a 5th Grader?).[4] Other Parodies included "Plain White T's" (based on Plain White T's), "Feist 1234" (based on 1234) and "Dirtiest Jobs with Mike Rowe" (based on Dirty Jobs with Mike Rowe).[3]
Episodes
Episodes 4161 - 4186 (26 episodes)[3]
Notes
Cast
Caroll Spinney, Pam Arciero, Heather Asch, Jennifer Barnhart, Fran Brill, Lisa Buckley, Tyler Bunch, Leslie Carrara-Rudolph, Kevin Clash, Stephanie D'Abruzzo, Eric Jacobson, Tim Lagasse, Peter Linz, Lara MacLean, Noel MacNeal, Jim Martin, Joey Mazzarino, Paul McGinnis, Tracy Mick, Jerry Nelson, Carmen Osbahr, Frank Oz, Annie Peterly, Martin P. Robinson, David Rudman, David Stephens, John Tartaglia, Matt Vogel, Steve Whitmire, Bryant Young
Jessica Alba, Will Arnett, David Beckham, Jack Black, Kim Cattrall, Lorena and Lorna Feijoo, Leslie Feist, Gilbert Gottfried,[7] Neil Patrick Harris, Jonah Hill, Randy Jackson, Heidi Klum, LL Cool J, Jenny McCarthy, Megan Mullally, Sandra Oh, Mike Rowe, Molly Shannon,[7] Jason Taylor, Tilly and the Wall,[8] Patrick Warburton, Brian Williams, Chandra Wilson
Characters
Muppets
Abby Cadabby, Anything Muppets, Baby Bear, Bert, Big Bird, Cookie Monster, Count von Count, Curly Bear, Elmo, Ernie, Grand High Triangle Lover, Grover, Grundgetta, Guy Smiley, Horatio the Elephant, Humpty Dumpty, Mr. Johnson, Mama Bear, Murray Monster, Norman, Oscar the Grouch, Ovejita, Papa Bear, Prairie Dawn, Rosita, Slimey, Mr. Snuffleupagus, Super Chicken, Telly Monster, Wolfgang the Seal, Zoe
Credits
Sources
External links
Community content is available under
CC-BY-SA
unless otherwise noted.