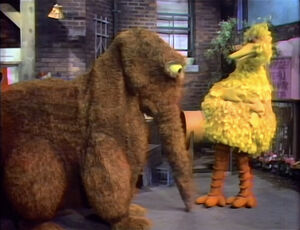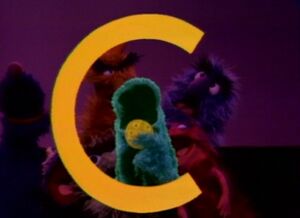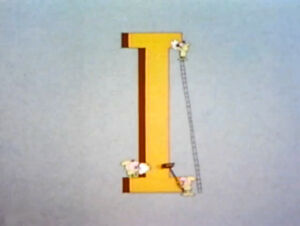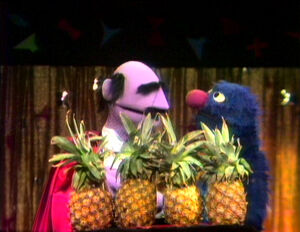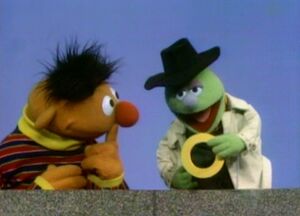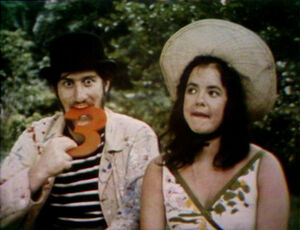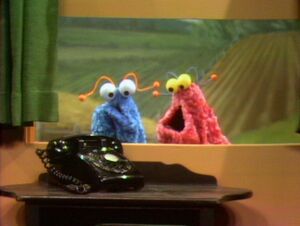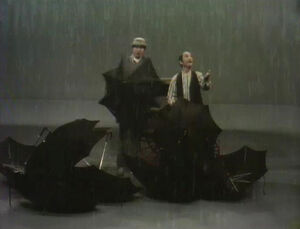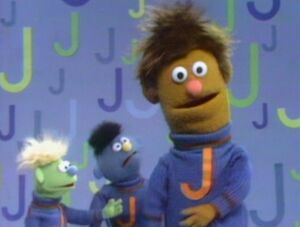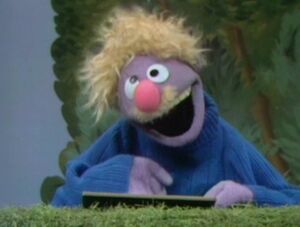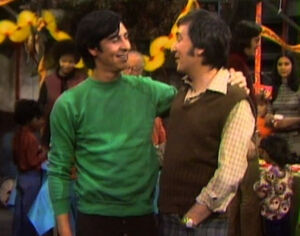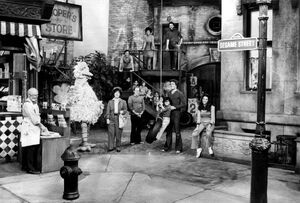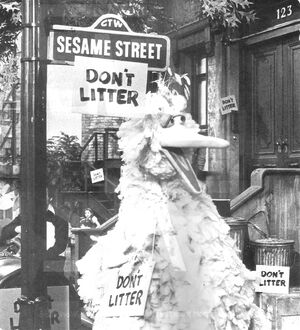 Sesame Street Season 3 aired from November 15,[1] 1971, to May 12, 1972.
Overview
The curriculum for Season 3 focuses on the subject of ecology. In an interview, Jon Stone said the ecology segments will "stress the interdependence of living things and the finiteness of the earth's resources. Pre-schoolers are extremely curious about the world around them, so we think they'll be very interested in how things they see are related to each other." Season 3 will also focus on Spanish language and culture.[2] Examples of the ecology theme includes Big Bird's attempt to fight litter in Episode 0294, and the three-part serial "The Girl, the Trees and the Terrible Troll."
Head writer Jeff Moss says, "You'll find an awful lot less of an adult telling a child that's the right, or that's the wrong answer. The kids will come up with solutions more often. And on every show we will have a 3-year old. We haven't had children that young before, but surprisingly, they're not that hard to manage before the camera. They really participate." He also says that this season will attempt to inject more real life into street scenes: "People will get annoyed with one another; will sometimes yell at one another. People will talk about pollution on the street."[3]
Characters
Spanish-speaking neighbors Luis, Maria, Rafael, and Antonio all join the cast, with Antonio becoming the show's first child cast member. Molly the mail carrier also makes appearances throughout the year. Linda, who previously appeared in Episode 0243, moves to Sesame Street this season. David and Tom, seen in a few shows during season 2, become full-time cast members. Larry and Phyllis are replaced by another comedy duo, Wally and Ralph, whose segments will be kept in insert rotation by the end of season 5; some of their segments are remakes of the first season's Buddy and Jim bits.
Kermit the Frog returns in new material, having been absent the previous year.
A new Muppet character, Mr. Snuffleupagus, is introduced for the street scenes. Since his first appearance Mr. Snuffleupagus is thought by the adults to be Big Bird's imaginary friend as they never meet him, and due to Snuffy's shy nature. The character's look during this season is quite different, sporting green lizard-like eyes; these would eventually be modified with long, black eyelashes before the puppet would be redesigned next year.
Other Muppets who debut this season include wild-eyed prankster Harvey Kneeslapper, magician The Amazing Mumford, the extraterrestrial Martians, and Mr. Johnson (the recurring customer whom Grover waits on at Charlie's Restaurant).
Segments
In addition to Wally and Ralph, this season features the debut of The Mad Painter, a film series starring an eccentric man who would paint numbers on various objects. A recurring series of animated segments created by Bud Luckey features Donnie Budd, a country fiddle player who sings about the numbers 2 through 6. Other well-known animated segments produced this year include the Luckey-produced "The Alligator King" and "Ladybugs' Picnic", though both would make their debut the following year. Grover would serve up his first meal as a waiter, and the Anything Muppets are featured in a series of sketches that take place in the Old West. Many songs and sketches from 1971's The Muppet Alphabet Album would be taped as Muppet bits, most famously being Cookie Monster's anthem, "C is for Cookie."
Since the Spanish language and culture is a curriculum focus this season, it was not uncommon to see Spanish-language inserts, usually either fully-dubbed segments (including a few featuring Muppets), re-animated translations of cartoons, or street scenes in which the dialogue is all or partially in Spanish.
Episodes
Episodes 0276 - 0405 (130 episodes)
Notes
This is the first season where the credits acknowledge that Caroll Spinney performs both Big Bird and Oscar the Grouch, and credit him with the human cast instead of with the other Muppet performers.
Fran Brill, included in the previous season's credits, is omitted from the roster, but still performs.
Season 3 was set to air on "about 300 stations, more than broadcast any other program on American TV."[4]
This is the last season to feature Matt Robinson as Gordon.
This is the last season in which, for Friday episodes, the street story's closing scene would continue under the credits. In the middle of the season, a new illustrated credit crawl was introduced.
The Numerosity segment series was not shown in this season.
Cast
Jim Henson's Muppets

Caroll Spinney, Frank Oz, Jerry Nelson (Uncredited: Fran Brill, Jane Henson, Richard Hunt,[5] John Lovelady)
Muppet Characters

The Amazing Mumford, Anything Muppets, Bert, Betty Lou, Big Bird, Big Jeffie, The Busby Twins, Cookie Monster, Ernie, Farley, Granny Fanny Nesselrode, Grover, Guy Smiley, Harvey Kneeslapper, Herbert Birdsfoot, Herry Monster, Mr. Johnson, Kermit the Frog, Lefty the Salesman, Little Bird, The Martians, The Mudman, Oscar the Grouch, Prairie Dawn, Professor Hastings, Roosevelt Franklin, Sherlock Hemlock, Simon Soundman, Sinister Sam, Mr. Snuffleupagus, Tough Eddie, Tony, The Twiddlebugs
The Bronx Boys' Club, Nydia Caro, Bill Cosby, Jesse Jackson, Frederick Douglass Kirkpatrick, Little Theatre of the Deaf, The New York Knicks, The New York Mets, Pete Seeger, Nina Simone
Credits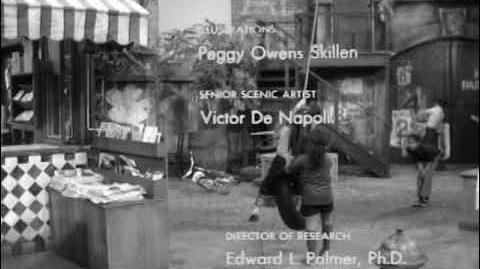 Executive Producer: David D. Connell
Producer: Jon Stone
Directors: Joost Van Rees, Robert Myhrum, Jim Henson[6]
Writers: Jeffrey Moss, and Bob Oskner, Dan Wilcox. Jerry Juhl, Emily Perl Kaplin, Ray Sipherd, Norman Stiles, Jon Stone
Music Director: Joe Raposo
Muppet Costume Designers: Kermit Love, Caroly Wilcox
Muppet Associate Director: Richard C. Pepperman
Supervising Film Producer: Edith Zornow
Film Producer: Shyrlee Dallard
Associate Producers: Dulcy Singer, Joan Lufrano, Aida Monares
Production Assistants: Lisa Simon, Ozzie Alfonso, Laurie Krosney
Director of Operations: Ronald L. Weaver
Production Supervisor: Lynn Klugman
Music Coordinator: Danny Epstein
Special Songs: Jeffrey Moss, Joe Raposo
Film Production: Dorothy Tod, Madeline Anderson, M.M. Murphy
Art Director: Alan J. Compton
Costume Designer: Mostoller
Artists: Elaine Booth Martin
Illustrations: Peggy Owens Skillen
Senior Scenic Artist: Victor Di Napoli
Director of Research: Edward L. Palmer, Ph.D.
Chairman, Board of Advisors: Gerald S. Lesser, Ph.D.
Production Stage Manager: Chet O'Brien
Stage Manager: Jimmy Baylor
Property Coordinator: Nat Mongioi
Unit Manager: Glenda Jones
Associate Director: Emily Squires
Technical Director: Bob Brooks
Technical Supervisor: Walt Rauffer
Lighting Director: George Riesenberger
Audio: Mike Shoskes, Bob Freeman
Video: Bob Squittieri
Sound Effects: Terry Ross, Barbara Wood
Make-Up: Phyllis Grens Sternick
Hair Stylist: Mickey Lawrence
Wardrobe: Ruby Howkins
Videotape Editors: John Hutchison, Vincent Sims, Jack Langan, Joe O'Dowd, Joe Commare
Recorded at Teletape's 81st. Street Studio
Sources