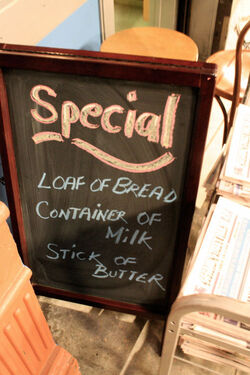 Hidden Gems are special, fan-geared throwbacks to classic Sesame Street moments, including characters and staff seen during the street scenes of the 40th Anniversary season.
In a 2009 interview by the fansite Tough Pigs, head writer Joey Mazzarino promised:
The graphic-based gems were designed by Pete Ortiz, who remarked about the in-jokes:
Picture
Description

Episode 4187

---

The stickers on Big Bird's suitcase reference the places he's been: Montana, Puerto Rico, China and Hawaii.

Episode 4188

---

A music cue from "Proud to Be a Cow" is used when Bo Peep's cow first appears.[3]

Episode 4189

---

Baby Bear's "King Size Crayons" box depicts the Alligator King holding a large crayon.

Episode 4190

---

Joan Ganz Cooney and Lloyd Morrisett's names appear on Leela's basket and watering can.

Episode 4191

---

Mr. Johnson's menu from Hooper's features an image from the "Ladybugs' Picnic" cartoon, advertising the "Ladybugs' Picnic Special."

Episode 4192

---

An ad for "Jim Henson's Puppet Workshop" appears in the laundromat window, complete with an image of him.

Episode 4193

---

Chris's newspaper features an image of Kevin Clash and a headline reading "Clash Unabashed by the Red Smash."

Episode 4194

---

Caroll Spinney makes a cameo in Hooper's Store, reading "Grouch Out New York" magazine.




Episode 4195

---

Leela reads a book about Placido Flamingo, written by Richard Hunt.
Cameraman Frank Biondo can also be seen in Hooper's Store reading PAPARAZZI magazine with executive producer Carol-Lynn Parente on the cover.

Episode 4196

---

Luis pulls the Teeny Little Super Guy from inside the broken washing machine. The music score even samples his theme song.

Episode 4197

---

Forgetful Jones makes a cameo during Maria and Luis's flashback.

Episode 4198

---

Gordon's newspaper features a headline that reads "Baker Falls From Grace" and features an image of the baker after a fall down the stairs. His newspaper also features a headline about Sam the Robot.

Episode 4199

---

During the freckle chase scene, music inspired by the "Dot Bridge" segments from Season 1 is played.

Episode 4199

---

A box of Nutri-Dots cereal is marked with a "Biondo's" brand logo.

Episode 4200

---

Jon Stone's face is seen on an advertisement for "Jon's Pencil Emporium."

Episode 4201

---

Martin P. Robinson makes a cameo, getting his shoes shined.

Episode 4202

---

At the beginning, Chris and Elmo hum the tune from the "Willie Wimple" cartoons as they arrive at the campsite.




Episode 4203

---

Bip Bippadotta appears in the Laundromat during the race and utters, "Mah Na Mah Na." Frank Biondo's caricature Frankie is seen selling official Squirmadega tee shirts at the race.




Episode 4204

---

Biff and Sully are seen in the crowd during Jack's Big Jump. Also in the crowd is Richard Termine, who is seen taking pictures of the event, and writer Belinda Ward.

Episode 4205

---

As Chris makes some peanut butter and jelly sandwiches, he is heard singing "Peanut Butter."




Episode 4206

---

Sherlock Hemlock makes a cameo in Hooper's Store. Jerry Nelson, as well as Herry Monster and Mr. Johnson (two more Nelson-performed characters) appear as well.




Episode 4207

---

Elmo's crayon box reads "The Classic Crayon Factory", and has a still from the show's classic Sesame Street film. Maria's newspaper features an image from the I-Beam film.

Episode 4208

---

Maria's scrapbook contains many, old Sesame Street photos, including Gabi's birth and a visit from James Earl Jones. Additionally, Maria sings "I'm Proud to Be a Cow" while she makes her scrapbook.

Episode 4209

---

Harvey Kneeslapper makes a cameo at the end of the Street Scene to slap a "7" on the seal's beach ball.

Episode 4210

---

Gordon is seen reading a book called "Dialogue with Dirt" by Solomon Grundy.

Episode 4211

---

John and Cheryl Henson are seen playing catch in the arbor with Cheryl's two daughters, Declan and Elizabeth. Telly refers to Cheryl by name in the same scene.

Episode 4212

---

The store next to the subway displays a "Store for Rent" sign, as well as one for "Northern Realty" (with an image of Calloway on it).
See also
Sources