Line 40:
Line 40:
 

Image:Frankie47.jpg|[[Frank Biondo]] on the Sesame Street set at the start of the 47th season's production in December 2015.<ref>[https://www.instagram.com/p/_aH3UHBD2I/ Instagram]

 

Image:Frankie47.jpg|[[Frank Biondo]] on the Sesame Street set at the start of the 47th season's production in December 2015.<ref>[https://www.instagram.com/p/_aH3UHBD2I/ Instagram]

 

Image:Carman.png|Rosita, Elmo and Ovejita on the first day of filming season 47.

 

Image:Carman.png|Rosita, Elmo and Ovejita on the first day of filming season 47.

 
+

Image:47.jpg|Rosita and Prairie Dawn on set filming season 47.

 

</gallery>

 

</gallery>

 
 
---
Revision as of 23:49, 13 April 2016
This article is about an upcoming project, product, or production.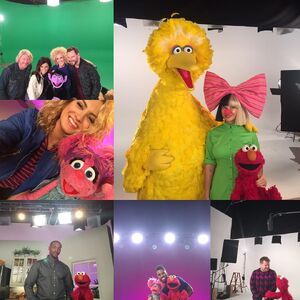 Sesame Street's 47th season began production in late 2015, with initial filming taking place during the week of December 14.[1] Filming of celebrity inserts took place in Los Angeles during the week of March 1, 2016.[2] Major filming for the season began the week of March 14, 2016.[1]
Celebrity guests include James Corden, Jason Derulo, Tori Kelly, Anthony Mackie, Sia, and Little Big Town.[2]
Among the segments filmed were clips of various celebrities (including Corden, Derulo, Kelly, Mackie and Sia) singing the classic Sesame Street song "Rubber Duckie" with Ernie and his rubber duck on a set filled with floating bubbles.[3]
The episodes will debut on HBO and will subsequently air on PBS following a nine-month window. The season is expected to debut sometime after the initial run of season 46 on HBO, either in late-2016 or early-2017.

Gallery
Sources
Community content is available under
CC-BY-SA
unless otherwise noted.