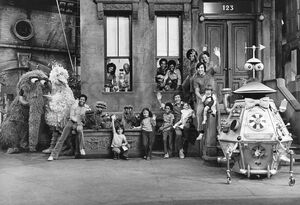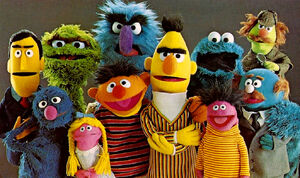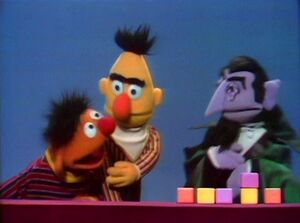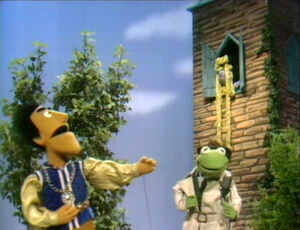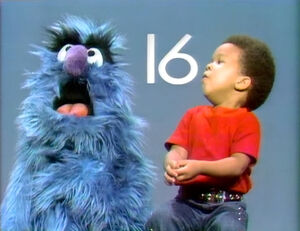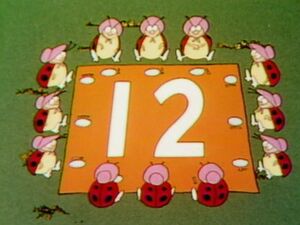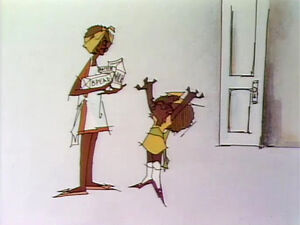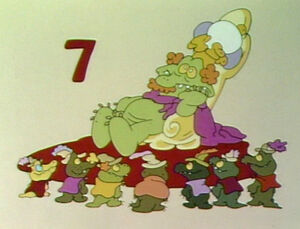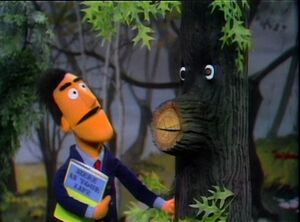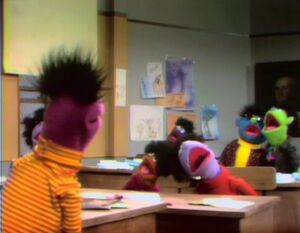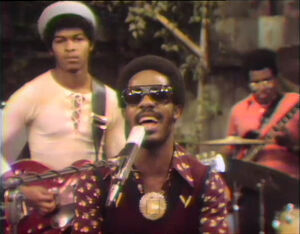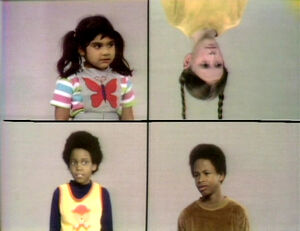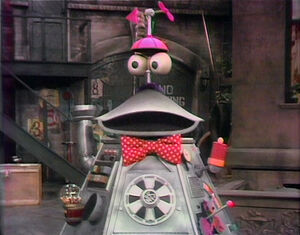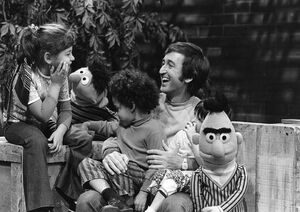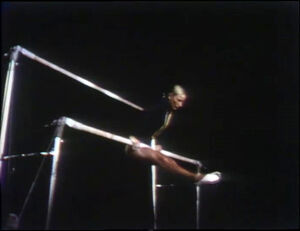 Sesame Street Season 4 aired from November 13, 1972 to May 11, 1973.
Overview
Season 4's curriculum continues its introduction to Spanish language and culture from last season[1] and "attempt to teach youngsters positive social attitudes like kindness and generosity."[2]
Characters
While many of the cast from the previous seasons return, Rafael, Tom, and Molly are now gone. Also, Hal Miller takes over the role of Gordon, who was previously played by Matt Robinson. A new cast member, Kate, is added to the group becoming the street's first folk singer.
This season introduces three new Muppet characters, all performed by Jerry Nelson: The Count, who loves to count everything in sight; Sam the Robot, also known as Sam the Machine, who believes that he is a "perfect" machine; and Biff, a construction worker. Mr. Snuffleupagus, introduced last season, has been rebuilt to resemble his modern design.
Segments
Three new recurring segments are introduced this season: Sesame Street News Flash, featuring Kermit the Frog as a roving reporter interviewing characters from fairy tales, nursery rhymes, and other popular stories, Roosevelt Franklin Elementary School, featuring Muppet Roosevelt Franklin demonstrating concepts (some involving relational concepts, others involving human relationships) to students in his classroom, and the Gymnast series, a live-action series featuring a young female gymnast.
Episodes
Episodes 0406 - 0535 (130 episodes)
Notes
Production on the fourth season began on August 2, 1972.[3]
A new opening sequence is produced, with most versions featuring appearances by Big Bird. These new openings are shot on videotape instead of film, as in previous seasons.
Richard Hunt first receives on-screen credit as a Muppet performer.
Starting this season, a special instrumental version of the "Sesame Street Theme" accompanies the funding credits. The funky arrangement that debuts this season would continue to be used until 1992.
For unknown reasons, the Jazz Numbers segment series was not shown in this season.
Cast
Northern Calloway, Loretta Long, Will Lee, Bob McGrath, Emilio Delgado, Sonia Manzano, Hal Miller, Joe Ponazecki, Paul B. Price, Malvina Reynolds, Linda Bove (uncredited guest)
Jim Henson's Muppets
Caroll Spinney, Frank Oz, Jerry Nelson, Richard Hunt, Fran Brill (uncredited)
Muppet Characters
The Amazing Mumford, Anything Muppets, Baby Breeze, Bert, Betty Lou, Big Bird, Billy, Cookie Monster, Count von Count, Cow, Ernie, Farley, Fenwick, Granny Fanny Nesselrode, Frazzle, Grover, Guy Smiley, Hardhead Henry Harris, Harvey Kneeslapper, Herbert Birdsfoot, Herry Monster, Mr. Johnson, Juanita, Kermit the Frog, Lefty the Salesman, Lefty's Boss, Little Bird, Little Jerry and the Monotones, The Martians, The Mudman, Officer Krupky, Oscar the Grouch, Pamela, Prairie Dawn, Prince Charming, Roosevelt Franklin, Sam the Robot, Same Sound Brown, Sherlock Hemlock, Simon Soundman, Slimey, Smart Tina, Suzetta Something, Mr. Snuffleupagus, Tough Eddie
Credits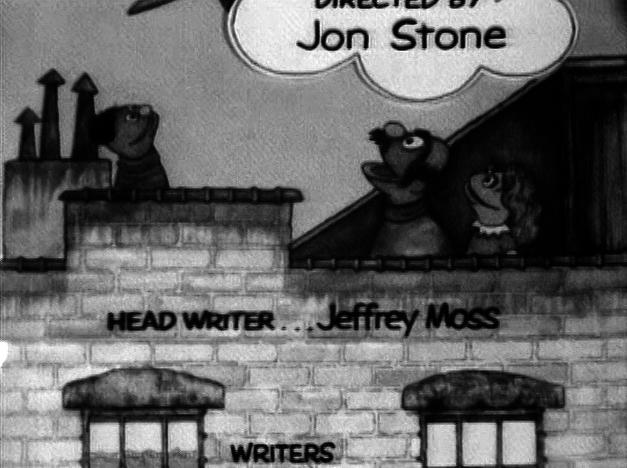 Executive Producer: Jon Stone
Producer: Robert Cunniff
Directors: Jon Stone, Robert Myhrum, Joost Van Rees
Head Writer: Jeffrey Moss
Writers: Dan Wilcox, Norman Stiles, Emily Perl Kingsley, Ray Sipherd, Jon Stone
Music Director: Joe Raposo
Puppets and Costumes: Donald Sahlin, Kermit Love, Caroly Wilcox, John Lovelady
Supervising Film Producer: Edith Zornow
Film Producer: Shyrlee Dallard
Associate Producers: Dulcy Singer, Joan Lufrano
Director of Operations: Ronald L. Weaver
Production Supervisor: Lynn Klugman
Music Coordinator: Danny Epstein
Special Songs: Jeffrey Moss, Joe Raposo
Film Production: M.M. Murphy, Ann Burgund
Post Production Supervisor: Ozzie Alfonso
Assistant to the Producer: Lisa Simon
Production Assistants: Shelley Herman, Amy Hutchings, Laurie Krosney, Edwin Shirley
Art Director: Alan J. Compton
Costume Designer: Mostoller
Graphics: Elaine Selig
Illustrations: Janice Carden
Senior Scenic Artist: Victor Di Napoli
Director of Research: Edward L. Palmer, Ph.D.
Chairman, Board of Advisors: Gerald S. Lesser, Ph.D.
Curriculum Coordinator: Robert Emerick
Production Stage Manager: Chet O'Brien
Stage Manager: Jimmy Baylor
Property Coordinator: Nat Mongioi
Unit Manager: Glenda Jones
Associate Director: Emily Squires
Technical Director: Ralph Mensch
Technical Supervisor: Walt Rauffer
Lighting Director: George Riesenberger
Audio: Mike Shoskes
Video: Bob Squittieri
Sound Effects: Terry Ross, Barbara Wood
Make-Up: Phyllis Grens
Hair Stylist: Mickey Lawrence
Wardrobe: Ruby Howkins
Videotape Editors: Joe O'Dowd, John Hutchison, Vincent Sims
Vice President for Production: David D. Connell
Recorded at Teletape's 81st. Street Studio
Sources