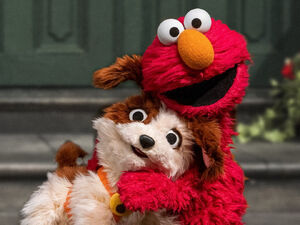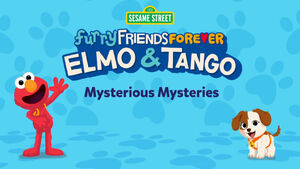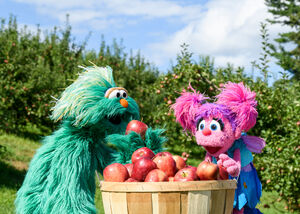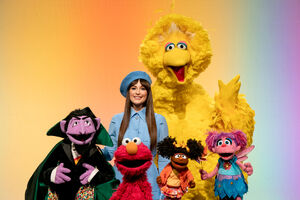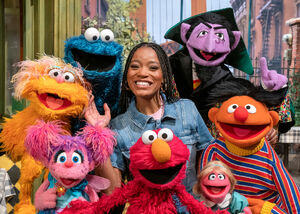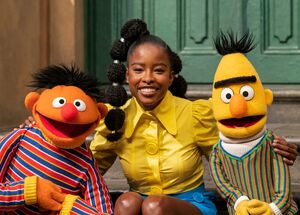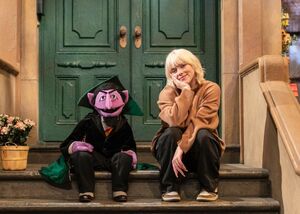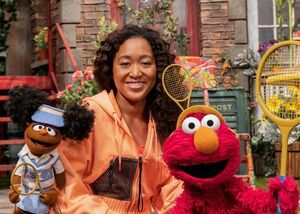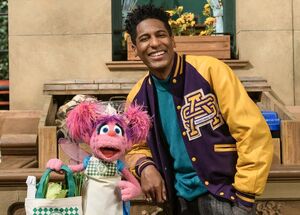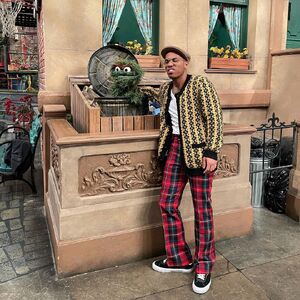 Sesame Street's 52nd season premiered on HBO Max on November 11, 2021.
Overview
The season continues its two-year curriculum of "playful problem solving," while also acknowledging the show's racial justice curriculum, which began with its Coming Together initiative.[1]
Production was complicated due to the COVID-19 pandemic; eight of the episodes were filmed on location, including a five-episode arc filmed at Harvest Moon Farm and Orchard in North Salem, New York, and several episodes were filmed at home via videoconference.[2][3][4]
Also, joining the cast is Elmo's newly-adopted puppy Tango, who first appeared in a 2021 special. The two star in a new recurring animated segment, "Elmo & Tango's Mysterious Mysteries." Tamir, previously introduced in The Power of We special, is given a recurring role as well (along with his cousin Gabrielle).
Production
Filming for the season's farm storyline took place at Harvest Moon Farm and Orchard in August 2020 to allow for open-air filming.[3][5] Two additional episodes were filmed on location in Queens and Croton Gorge Park in Westchester.
In-studio production began a few months later, starting the week of October 26[6] and wrapping on December 10.[7]
Celebrities
Celebrity guests for the season include Jon Batiste, Billie Eilish, Amanda Gorman, Dr. Mae Jemison, Kacey Musgraves, Naomi Osaka, Anderson .Paak, and Keke Palmer.
Episodes
Episodes 5201 - 5235 (35 episodes)
Muppets
Abby Cadabby, Alfred, Anything Muppets, Artie the Ant, Baby Bear, Bert, Big Bird, Book, Chickens (Shelly, Jennifer, and Lottie), Cookie Monster, Cookie Monster's Mommy, Count von Count, Elmo, Ernie, Fluffy, Freddy, Gabrielle, The Gingerbread Man, Gladys the Cow, Goldilocks, Gonger, Grouches, Grover, Grundgetta, Honkers, Hubert the Human Cannonball, Julia, Louie, Maggie Cadabby, The Martians, Norbert the Robot, Oscar the Grouch, Prairie Dawn, Rosita, Rudy, Super Sunscreen, Tamir, Tango, Telly Monster, Two-Headed Monster, Zoe
Cast
Puppet Captain: Matt Vogel
Assistant Puppet Captain: Martin P. Robinson
Credits
Executive Producers: Benjamin Lehmann, Kay Wilson Stallings
Senior Producers: Karyn Leibovich, Stephanie Longardo
Coordinating Producer: Mindy Fila
Content Producer: Autumn Zitani Stefano, M.A.
Producers: Michael J. Cargil, Andrew Moriarty, Ken Scarborough
Post Producer: Todd E. James
Line Producer: Aimee Blackton
Co-Producer: Matt Vogel
Directors: Ken Diego, Rick Fernandes, Shannon Flynn, Todd E. James, Benjamin Lehmann, Linda Mendoza, Alan Muraoka, Liliana Olszewski, Scott Preston, Chuck Vinson, Matt Vogel
Head Writer: Ken Scarborough
Writers: Molly Boylan, Laura Canty-Samuel, Jessica Carleton, Geri Cole, Joe Fallon, Christine Ferraro, Monique D. Hall, Elizabeth Hara, Ron Holsey, Raye Lankford, Tim McKeon, Andrew Moriarty, Ken Scarborough, Pilot Viruet, Belinda Ward, Moujan Zolfaghari
Film Producer: Kimberly Wright
Associate Producers: Christina Elefante, Kelly Ferrara, Bryce-Loren Walker
Senior Vice President of Curriculum and Content: Rosemarie T. Truglio, Ph.D.
Sesame Street Curriculum and Content Team: Jessica DiSalvo, Susan Scheiner, M.A., Hei Min You, Autumn P. Zitani Stefano, M.A.
Puppets, Costumes, Props: The Jim Henson Company NY Creature Shop - Erin Black, Kate Brehm, Nicolina Dante, Ben Durocher, Joel Gennari, Michelle Hickey, Joshua Holden, Ariella Knight, Rollie Krewson, Jim Kroupa, Lara MacLean, Laura Manns, Anney Ozar, Constance Peterson, Kate Rusek, Sierra Schoening, Polly Smith, Kelly Snook, David Valentine, Jason Weber, Stacey Weingarten, James W. Wojtal, Jr.
Production (Jim Henson): Melissa Creighton, Joseph Roddy, Carolyn Fanelli
Music Director: Bill Sherman
Music Director (Arrangements and Orchestrations): Joe Fiedler
Music Director (Vocals): Paul Rudolph
Music Coordinator: Tyler Hartman
Music Copyist: Joe Fiedler
Composers: Dominic Fallacaro, Joe Fiedler, Juliet Piper, Toby Lightman, Kathryn Raio, JP Rende, Paul Rudolph, Bill Sherman, Josh Tangey, Craig Thomas, Greg Wells, Will Wells
Lyricists: Molly Boylan, Jessica Carleton, Joe Fallon, Monique D. Hall, Liz Hara, Ron Holsey, Raye Lankford, Andrew Moriarty, Ken Scarborough, Morgan von Ancken, Belinda Ward
Music Editor: Tyler Hartan
Music Editor/ADR Mixer: Paul Rudolph
Supervising Music Editor: Michael Croiter
Sesame Street Band: Randy Cohen, Michael Croiter, John Deley, Doug Derryberry, Joe Fiedler, Rob Jost, Gary Meyer, Kenny Rampton
Production Designer: Katie Akana, Courtney Williams
Art Director: Naomi Munro, Kai Lee
Prop Coordinator: Keith Olsen
Celebrity Talent Booker: Bella Harkins
Child Talent: Carolyn Vole, Ph.D.
Supervising Editors: Joseph DiGiacomo, Todd E. James
Post Production Graphics: Ryan Denora, David Cowles, Jeremy Galante, Ed Mundy
Associate Directors: Frank Campagna, Emily Cohen, Ken Diego, Julie Lorusso, Yori Tondrowski
Key Control Room Production Assistant: Christina Elefante
Control Room Production Assistants: Kelly Ferrara
Elmo & Tango's Mysterious Mysteries

Head Writer: Morgan von Ancken
Writers: Harron Atkins, Jennifer Capra, Michael J. Goldberg, Andrew Moriarty, Gabe Pulliam, Pilot Viruet, Morgan von Ancken, Autumn Zitani Stefano, M.A.
Directors: Joanna Hepworth, Mark Taylor

Sound Effects Editor / Re-Recording Mixer: Dick Maitland, C.A.S.
Supervising Sound Editor / Re-Recording Mixer: Steve "Major" Giammaria
Sound Editor / ADR Mixer: Chris Sassano, C.A.S., Al Theurer
Technical Directors: Tom Guadarrama, Rich Drummond
Cameras: Frank Biondo, Jerry Cancel, Shaun Harkins, Jonny Harkins, Paul Wilkins
Senior Video: James Meek
Recordists: Ernie Albritton, Barbara Bianco
Stagehands: Steve Dannenberg, Russell Hooton, Karen Sunderlin
Script Supervisor: Jennifer Capra
Script Coordinator: Lynda Holder-Settles
Sesame Street Research Team: David I. Cohen, Becca K. Seibert, Courtney B. Wong Chin, M.A.
Special Thanks: A Productions, The Hidden Fortress, Magnetic Dreams, Primal Scream, Safe Production Services, Sound Lounge, Studio G Brooklyn
Taped at Kaufman Astoria Studios in New York
Gallery
Promotional photos
Sources
External links