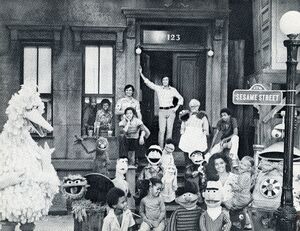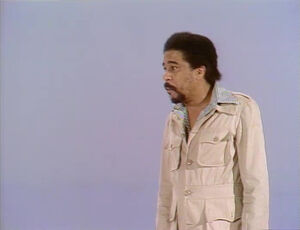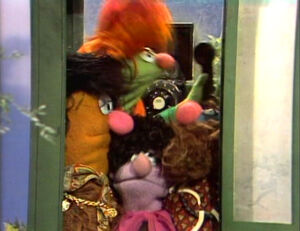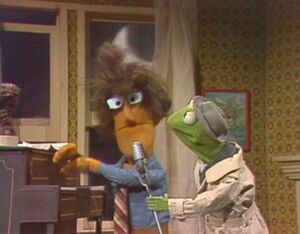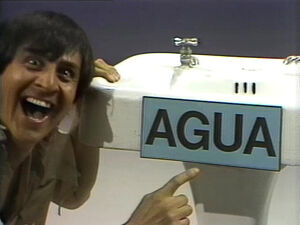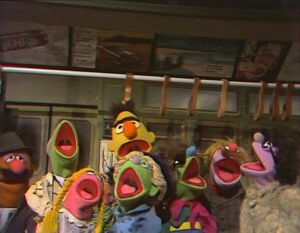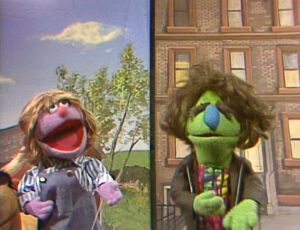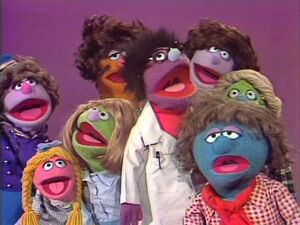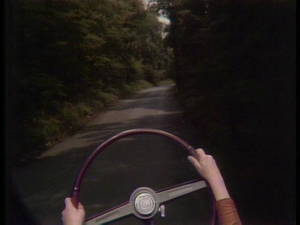 Sesame Street Season 6 aired from November 4, 1974 to May 2, 1975.
Overview
The curriculum for Season 6 is focusing on affect behavior, divergent thinking, career awareness, and social interactions.[1]
Episodes
Episodes 0666 - 0795 (130 episodes)
Notes
This is Sam Pottle's first season as music director, replacing Joe Raposo for a while.
Starting this season, Roscoe Orman played the role of Gordon.
This season introduces a new credit crawl featuring the drive through the countryside. This credit crawl would be used up until season 9.
This is the last season Jerry Juhl worked on as a writer.
This is also the final season to have animated opening number sequences.
Cast
Jim Henson's Muppets
Caroll Spinney, Frank Oz, Jerry Nelson, Richard Hunt, Fran Brill (uncredited)
Characters
Muppets
The Amazing Mumford, Anything Muppets, Bad Bart, Bert, Betty Lou, Biff, Big Bird, Cookie Monster, Count von Count, Don Music, Ernie, Farley, Frazzle, Fred the Wonder Horse, Gladys the Cow, Grover, Guy Smiley, Hard Head Henry Harris, Harvey Kneeslapper, Herry Monster, Mr. Johnson, Kermit the Frog, Lefty the Salesman, Little Chrissy and the Alphabeats, Little Jerry and the Monotones, Oscar the Grouch, Prairie Dawn, Rodeo Rosie, Roosevelt Franklin, Sam the Robot, Sherlock Hemlock, Simon Soundman, Slimey, Smart Tina, Mr. Snuffleupagus, Sully, Suzetta, The Tarnish Brothers, The Twiddlebugs
Credits
Executive Producer: Jon Stone
Producer: Dulcy Singer
Director: Robert Myhrum
Writers: Norman Stiles, and Ray Sipherd, Emily Perl Kingsley, Joseph A. Bailey, David Korr, Paul D. Zimmerman
Special Muppet Material by: Jerry Juhl
Music Director: Sam Pottle
Puppets and Costumes: Donald Sahlin, Kermit Love, Caroly Wilcox, John Lovelady
Supervising Film Producer: Edith Zornow
Director of Operations: Ronald L. Weaver
Production Supervisor: Lynn Klugman
Music Coordinator: Danny Epstein
Assistant Music Director: Dave Conner
Film Production: Madeline Anderson
Post Production Supervisor: Ozzie Alfonso
Associate Director: Emily Squires
Assistants to the Producer: Shelley Herman, Amy Hutchings
Production Assistants: Selvin Evans, Judy Freudberg, Jane L. Delgado
Art Director: Alan J. Compton
Production Stage Manager: Chet O'Brien
Stage Managers: Jimmy Baylor, Lisa Simon
Property Coordinator: Nat Mongioi
Costume Designer: Domingo Rodriguez
Graphics: Gerri Brioso
Illustrations: Janice Carden
Senior Scenic Artist: Victor Di Napoli
Unit Manager: Glenda Jones
Technical Director: Ralph Mensch
Technical Supervisor: Walt Rauffer
Lighting Director: George Riesenberger
Sound Effects: Barbara Wood
Audio: Bryan Keen
Video: Bob Squittieri
Videotape Editors: Vincent Sims, John Hutchison
Make-Up: Phyllis Grens Sternick
Hair Stylist: Mickey Lawrence
Wardrobe: Grisha Mynova
Curriculum Coordinator: Robert Emerick
Vice President of Research: Edward L. Palmer, Ph.D.
Associate Director of Research: Patricia Hayes
Chairman, Board of Advisors: Gerald Lesser, Ph.D.
Vice President for Production: David D. Connell
Sources
↑ 1.0 1.1 Lewiston Evening Journal: Sesame Street Will Begin Its Sixth Season On Monday