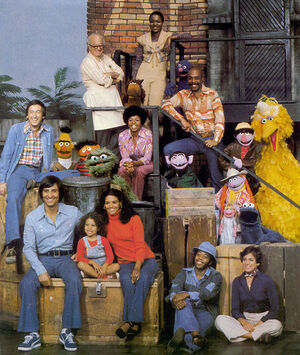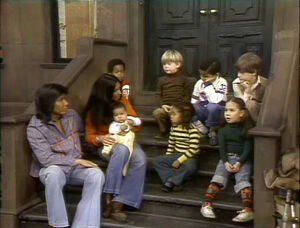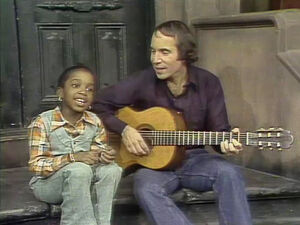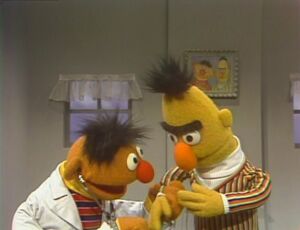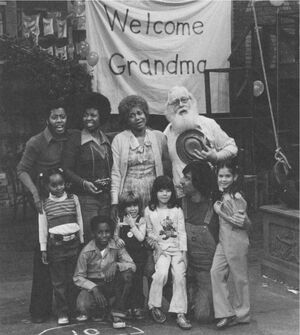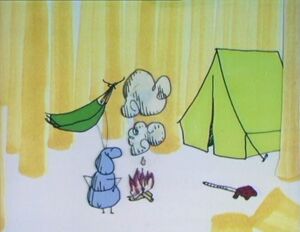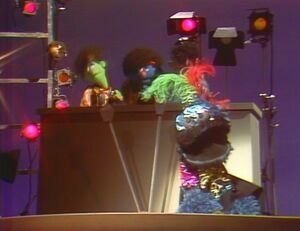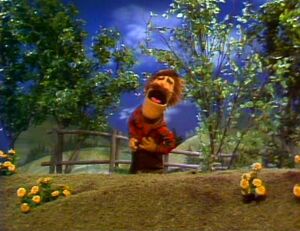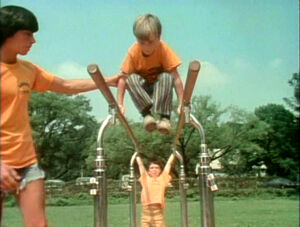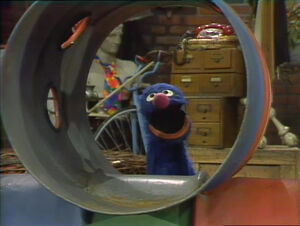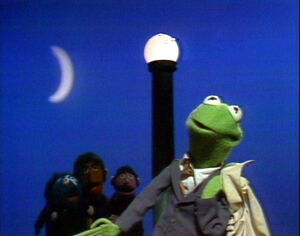 Sesame Street Season 8 aired from November 29, 1976 to May 27, 1977.
Overview
This season will focus on female roles. Dulcy Singer says, "the changes are being made in response to criticism of not enough women in the cast and showing women in stereotyped roles.[1]
This season introduces singer and actress Alaina Reed as Olivia, a professional photographer.
Episodes
Episodes 0926 - 1055 (130 episodes)
Notes
Starting with this season, closing signs take place in outdoor locations.
Starting this season, and continuing through season 32, the episode number is displayed on-screen during the beginning of the theme song, a feature introduced later in the previous season. Likewise, this was also the last season where the episode number was displayed as a flat graphic (midway through the season, the episode numbers began to have black shadows or borders depending on the episode).
Cast
Northern Calloway, Emilio Delgado, Will Lee, Loretta Long, Sonia Manzano, Bob McGrath, Roscoe Orman, Alaina Reed, Buffy Sainte-Marie; Linda Bove (uncredited, recurring guest)
Jim Henson's Muppets
Caroll Spinney, Frank Oz, Jerry Nelson, Richard Hunt, Peter Friedman, Caroly Wilcox; (Uncredited: Fran Brill, Jane Henson)
Characters
Muppets
The Amazing Mumford, Anything Muppets, Bert, Biff, Big Bird, Cookie Monster, Count von Count, Ernest the Grouch, Ernie, Fred the Wonder Horse, Gladys the Cow, Grover, Guy Smiley, Harvey Kneeslapper, Herry Monster, Mr. Johnson, Kermit the Frog, Oscar the Grouch, Poco Loco, Rodeo Rosie, Mr. Snuffleupagus, Sully
Credits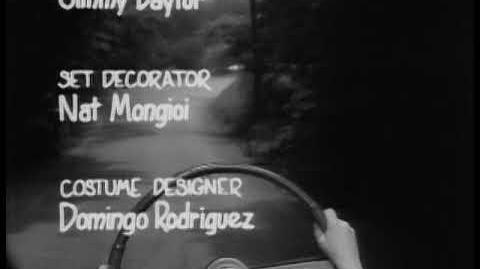 Executive Producer: Jon Stone
Producer: Dulcy Singer
Director: Robert Myhrum, Bob Schwarz, Jon Stone[2]
Music Director: Sam Pottle
Muppets made by: Donald Sahlin, Kermit Love, Caroly Wilcox
Supervising Film Producer: Edith Zornow
Associate Producer: Lisa Simon
Director of Operations: Ronald L. Weaver
Production Supervisor: Frieda Lipp
Music Coordinator: Danny Epstein
Post Production Supervisor: Ozzie Alfonso
Associate Director: Emily Squires
Assistant to the Producer: Amy Hutchings
Production Assistants: Joseph Catalano, Selvin Evans, Peggy Fulton, Brenda Huggins, Diane Mitchell, Thelma Moses
Art Director: Alan J. Compton
Production Stage Manager: Chet O'Brien
Stage Manager: Jimmy Baylor
Set Decorator: Nat Mongioi
Costume Designer: Domingo Rodriguez
Graphic Artist: Gerri Brioso
Senior Scenic Artist: Victor DiNapoli
Film Editor: Mike Breddan
Technical Advisor: Walt Rauffer
Unit Manager: Glenda Jones
Technical Director: Ralph Mensch
Lighting Director: George Riesenberger
Sound Effects: Dick Maitland
Audio: Jay Judell
Video: Rolf Wahl
Videotape Editors: John Hutchison, Vincent Sims, Jack Langan
Make-Up: Mickey Scott
Hair Stylist: Mickey Lawrence
Wardrobe: Grisha Mynova
Curriculum Coordinator: Robert Emerick
Vice President of Research: Edward L. Palmer, Ph.D.
Associate Director of Research: Lewis Bernstein
Chairman, Board of Advisors: Gerald Lesser, Ph.D.
Vice President for Production: David D. Connell
Recorded at Reeves Teletape 81 St. Studio
Sources
Community content is available under
CC-BY-SA
unless otherwise noted.