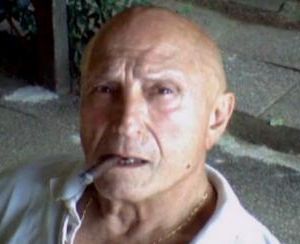 Sergio Tedesco (1928-2012) was an Italian voice actor who dubbed Sam the Eagle and Statler in most of the Muppet movies between 1976 and 1999, with the exception of I Muppet alla conquista di Broadway (The Muppets Take Manhattan).
Tedesco began as a child actor (including 1941's La forza bruta) while also studying opera. A tenor, he performed in opera for decades including La Traviata, Iris (with Placido Domingo) and Mefistofele (with Domingo and Samuel Ramey). He performed on radio but was most prolific in dubbing, lending his voice to John Hurt in A Man for All Seasons, Jim Broadbent in Nicholas Nickelby, Mickey Rooney in Breakfast at Tiffany's, Ian Holm in Robin and Marian, Harvey Korman in Trail of the Pink Panther, Wolfgang Völz in Funeral in Berlin, James Tolkan in Back to the Future Part II, and Rod Serling on The Twilight Zone.
For Disney, Tedesco dubbed Prince Phillip in Sleeping Beauty, Jaq in Cinderella, Kaa in The Jungle Book, Sir Hiss in Robin Hood, the "Legend of Sleepy Hollow" narrator and MacBadger in The Adventures of Ichabod and Mr. Road, the TV announcer in 101 Dalmatians, and Gopher in Winnie the Pooh and the Honey Tree. Other cartoon roles included Cotton Hill on King of the Hill, Cornpone in Hey There, It's Yogi Bear, Cornelius in The Secret of NIMH, and various anime characters.
Muppet dub credits
External links
Community content is available under
CC-BY-SA
unless otherwise noted.