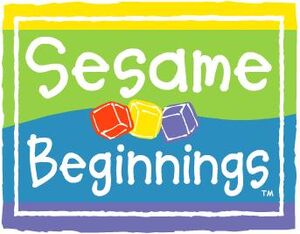 Sesame Beginnings is a direct-to-DVD, book and merchandise spin-off franchise from Sesame Street, launched in 2006. The products feature baby versions of classic Sesame Street Muppets along with their caregivers.
Overview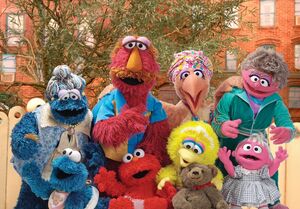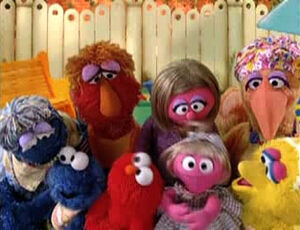 Sesame Beginnings provides an opportunity for parents of infants to introduce the beloved Sesame Street characters to their children from the very beginning, while entertaining, engaging, and encouraging interaction between caregivers and their children. Research shows that young children learn best when experiences are shared with a loved one. The DVDs are specially designed to help parents and caregivers encourage their child's curiosity and interest in learning during everyday interactions. The DVDs are also supplemented by a printed guide, offering parents additional tips for ways to extend the learning after viewing through activities such as feeding, bath time and playtime.
At the beginning of each show, a celebrity with their child are reading a book about the baby Sesame Street Muppets and their caregivers' day. The story would about the babies becoming interest about a certain subject such as learning to dancing, make music, or exploring their senses. Through various songs and activities, the caregivers stimulate the babies' learning to explore more. In between songs and activity segments, it would cut to segments on real children with their caregivers participating in the same activities that the babies are learning. At the end, all the babies and caregivers get together to participate in a group activate relating to what they learn today.
Development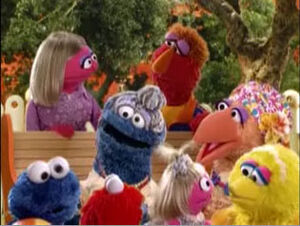 To better serve the families of children under two, Sesame Workshop wanted to create a program that is specially designed to be developmentally appropriate for this younger age group and involve model interaction between caregiver and child.
"

Our own research showed that Sesame Street videos were among those frequently viewed by the under two set, in spite of the fact that the content and curriculum of Sesame Street is designed for ages 2-5...With the Sesame Beginnings DVDs, we're providing parents and caregivers of children under two with content specifically designed to use media as a tool to further adult/child interaction.

"
- Sherrie Westin, Executive Vice President of Sesame Workshop
"

Research indicates that children learn best when experiences are shared with a loved one. In the style of Sesame Street, Sesame Beginnings was created with this dual audience in mind; while there's age-appropriate content for the young child, the playful Muppet caregivers model fun songs and activities to be adapted by the adult viewers to create their own special moments with their children.

"
- Dr. Rosemarie Truglio, Sesame Workshop's Vice President of Education and Research
Cast
Regular Cast:
Additional Performers: Jen Barnhart, Ryan Dillon, John Kennedy, Jim Kroupa, Peter Linz, Paul McGinnis, Carmen Osbahr
DVDs
See also
External links
Community content is available under
CC-BY-SA
unless otherwise noted.