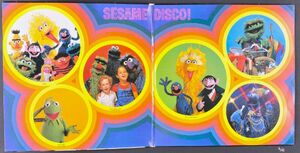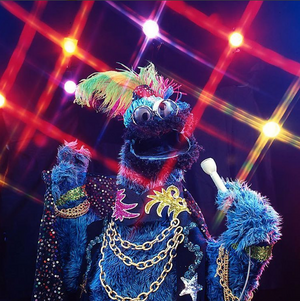 Sesame Disco! is a 1979 Sesame Street album, a follow-up to the previous year's Sesame Street Fever. The album features the Sesame Street characters performing disco versions of classic Sesame songs, along with some new songs written during the disco era. All of the album's songs were written by Joe Raposo.
The Sesame characters are backed up by a chorus of female singers, credited on the album as "the Girls".
The album was nominated for a Grammy Award for Best Recording for Children, but it lost to the soundtrack album of The Muppet Movie.
Track listing
Side One
Side Two
Disco Frog - Kermit the Frog and the Girls
Doin' the Trash - Oscar the Grouch and the Girls
Bein' Green - Kermit the Frog and the Girls
Note
Cast
Credits
Executive producer: Joe Raposo
Produced by Joe Raposo and Michael DeLugg
Engineered by Michael DeLugg
Mixed and edited by Michael DeLugg and Joe Raposo
Conceived by Arthur Shimkin and Joe Raposo
Continuity by Joe Raposo
Musical direction by Joe Raposo
Arranged and conducted by Dick Lieb, Leon Pendarvis, Jack Cortner, and Joe Raposo
Art director: Robert Pierce
Photography: Neil Selkirk
The Band
Drums: Richard Crooks
Bass: Gordon Johnson
Guitars: Jack Cavari, Jeff Layton
Keyboards: Leon Pendarvis, Cliff Hannon, Jack Cortner
Conga: Errol Bennett
Percussion: George Devens
Trumpets: Mel Davis, Joe Shepley
Trombones: Alan Raph, Wayne Andre
Reeds: Wally Kane, Phil Bodner
Strings: Julius Brand, Fred Buldrini, Peter Dimitriades, Max Hollander, Carmel Malin, Joe Malin, Anthony Posk, Michael Spivakowsky, Anthony Sophos
Cellos: Jonathan Abramowitz, Jesse Levy
Other releases
International releases
Promotional material
See also
Community content is available under
CC-BY-SA
unless otherwise noted.