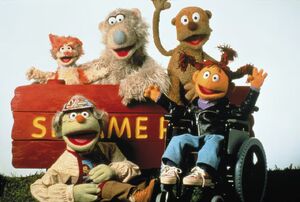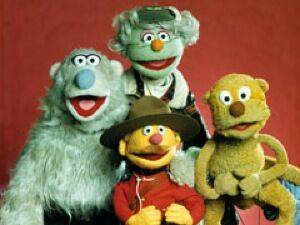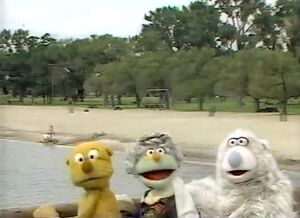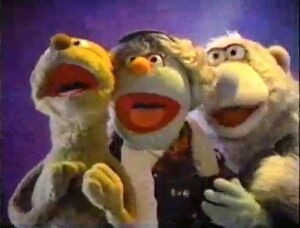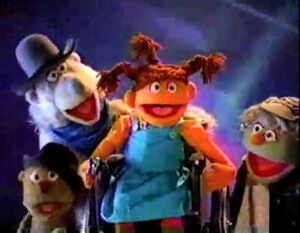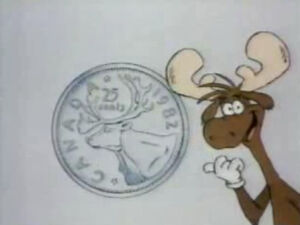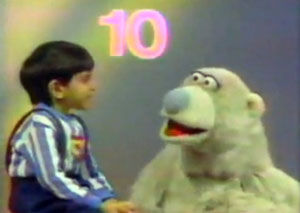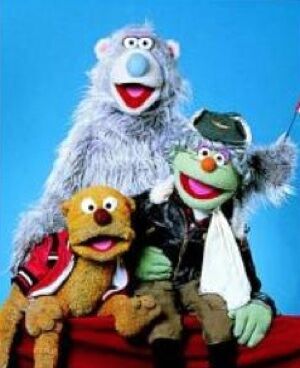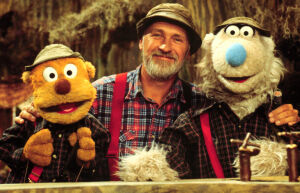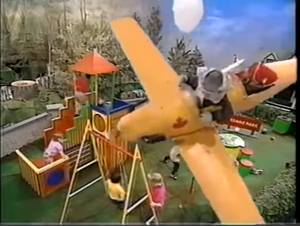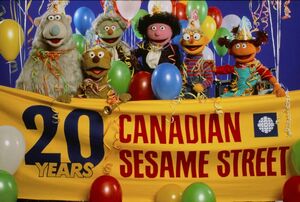 Sesame Park is the Canadian co-production of Sesame Street, which aired under that name from 1996 until 2002. However, the production has a much longer history, dating to initial five minute segments of the US series which aired in 1972 over the CBC as interstitials. In January 1973, Sesame Street Canada debuted, an edited version of the one-hour American program, occasionally including specially filmed Canadian cartoon and film inserts. Examples included "A Quarter Has a Caribou on It," a 1982 animated song explaining the value and appearance of the Canadian 25 cent coin. By the 1980s the show's title had been modified to Canadian Sesame Street.
Episodes
Including packages of "Sesame Park Snippets", there were 340 episodes produced.
Season 4: 40 episodes

Episode 4.1: "Yard Sale"
Episode 4.4: "Basil's Guided Tour"
Episode 4.9: "Louis has a New Hobby"
Episode 4.10: "Total Chaos"
Episode 4.11: "Looking for Lambykins"
Episode 4.14: "Fear Strikes Out"
Episode 4.15: "The Collector"
Episode 4.17: "Leaves"
Episode 4.18: "Talent Show"
Episode 4.19: "Basil Learns to Juggle"
Episode 4.20: "Showoff Must Go On"
Episode 4.22: "Rhyme Time"
Episode 4.23: "Super Models"
Episode 4.24: "Case of the Missing Fruit"
Episode 4.25: "Exercise with Louis"
Episode 4.26: "Backyard Camp Out"
Episode 4.27: "Helping Out"
Episode 4.28: "Written by Chaos"
Episode 4.29: "Nap Schnap"
Episode 4.31: "T Time"
Episode 4.32: "Lost and Found Frankie"
Episode 4.33: "With Friends Like You"
Episode 4.34: "A Hike in the Woods"
Episode 4.35: "The Big Box Caper" (guest Jonathan Torrens as delivery person)
Episode 4.36: "In the Key of Basil"
Episode 4.37: "Chaos Counts" (1-10)
Episode 4.38: "Bunny Wannabe"
Episode 4.39: "Bye Bye Basil"
Episode 4.40: "Chaos Missing in Action"
Season 5: 40 episodes

Episode 501: Thunderstorm
Episode 502: Basil and the Beddy Bye Guy
Episode 503: Dare to Share
Episode 504: The Old In and Out
Episode 505: Follow the Leader
Episode 506: Bongo Belles
Episode 507: A Day without Dodi
Episode 508: On Your Toes
Episode 509: Spilled Sounds
Episode 510: A Tale of Two Stories
Episode 511: Forget Me Not
Episode 512: The Porridge Predicament
Episode 513: The Superheroes Movie
Episode 514: The Grand New Opry
Episode 515: Hat Day
Episode 516: Super Duper
Episode 517: The Marching Band
Episode 518: The Mysterious Seed Snatcher
Episode 519: Cover Story
Episode 520: Prince's Presence 'P
Episode 521: Louis at the Big Hill
Episode 522: Sesame Park Games
Episode 523: A Cold Spell
Episode 524: Tea - Parrrr-ty
Episode 525: To the Moon
Episode 526: Rocky and his Friends
Episode 527: The Scavenger Hunt - 'S
Episode 528: Mary Mary Quite Contrary (guest

Lisa Richardson

)
Episode 529: Tug a Rope
Episode 530: Moving Day
Episode 531: The Ecology Cowgirl
Episode 532: Cookies for Dodi
Episode 533: Old King Cole (guest Eric Peterson)
Episode 534: Fun with Foliage
Episode 535: The Itsy Bitsy Pig
Episode 536: Red Green Visits (guest Steve Smith)
Episode 537: Goldilocks (guest Janet-Laine Green)
Episode 538: Magic Schmagic
Episode 539: Getting into Hot Water
Episode 540: Mismatched Socks
American version
In February 1971, the Canadian Radio-Television Commission created quotas on how much imported television content that the CBC and other broadcasters could air, at 30% maximum. Given that Sesame Street ran each weekday, the total five hours was a significant amount of the quota. The matter was even discussed in Canadian Parliament. One TV columnist suggested educational programs be exempt, given the quota was to limit American dramas and comedy series.[1]
Canadian expansion
In 1987, executive producer Michel Lavoie, who had overseen the film inserts since 1975, initiated an expansion of "Canadian" content. That spring, new segments, filmed in Toronto, debuted, introducing three new Muppet characters: Basil the polar bear, Louis the Francophone otter, and Dodi, an elderly but active bush pilot and mail carrier. The segments aired as inserts between the American "street" storylines and footage, and occasionally involved celebrities, such as Andrea Martin teaching the importance of practice. The puppeteers for these segments included several veterans of Fraggle Rock and Follow That Bird (filmed in Toronto), such as Tim Gosley (Basil), Rob Mills (Dodi and many others), and Gord Robertson. Bilingual puppeteer and voice actor Pier Paquette was cast as Louis.
At this point, rather than a co-production, the CBC was buying the footage from CTW, and by contract was only allowed to delete 23 minutes of the original American footage. The replaced scenes were often those stressing bilingualism through Spanish. In contrast, in the new footage, French was used heavily, and occasionally the characters, especially Louis, would alternate between the two languages.
In 1988, a host of new characters were added, including Dr. Bouzouki (a parody of David Suzuki who would teach science lessons), Robert, Fern, and most notably, Katie, a girl in a wheelchair who still remains active and cheerful. Katie (puppeteered by Trish Leeper) would continue until the end of the series. Other new segments included Dodi in her plane, flying over Calgary during the outdoor rodeo Stampede, or Toronto while witnessing the Caribbean carnival Caribana.
In 1990, the original trio were joined by Elmo for the Canadian series' first television special, Basil Hears a Noise. By 1993, the cast had expanded to include a number of Parody Muppets based specifically on Canadian personalities, especially CBC reporters and talk show hosts. The roster included reporter Barbara Plum (Barbara Frum), horticulture expert Hana Gardener (interviewer Hana Gartener), sports pundit Garth Burmengi (radio comic Ralph Benmergui), "Rhyme Time" news anchor Peter Londonbridge (Peter Mansbridge, who also guest starred on the series), and storyteller Margaret Redwood (author Margaret Atwood). Just as with the American version, some of the new characters proved short-lived, such as Gordon Brightfoot (a take-off on singer Gordon Lightfoot).
New Name, Locale
In 1996, the show was revamped and renamed Sesame Park, with the new "premiere" airing on October 21.[2] Instead of inserting Canadian elements into the hour-long Sesame Street episodes, the series was trimmed to a half hour, dominated by the Canadian scenes with only occasional American inserts. This setting would be an ecological, lush green public park, as opposed to a city street, with an accessible playground and a Canadian flag proudly waving. The change was explained by CBC children's program executive Peter Moss: "My own kids grew up on the original Sesame Street but we decided it was time to put the pro-social messages of the show and its wonderful pedagogy - the skills of literacy and numeracy - into a Canadian context. There isn't a Canadian city where you can go more than about six blocks without finding a safe, green park. So it became Sesame Park."[3]
The recycled footage reflected the change; Bert and Ernie, and to a lesser extent Big Bird and Grover, among others, continued to appear, but the urban, grungy Oscar the Grouch was deemed more representative of a U.S. streetscape and dropped entirely. Chaos the kitten (played by Karen Valleau) was added to the Canadian Muppet cast, and more Canadian celebrities appeared, often as fairytale or nursery rhyme characters. Most of the original puppeteers were also recast at this time, with Bob Stutt playing Basil and Noreen Young played Dodi. Dodi's General Store was among the new locations on the show. At some point, a human cast member was added, Ray (Derek Ritschel), who assisted Dodi.
In July 1998, 25 people from CTW and CBC gathered to review the 200 new Canadian segments produced for the show, to figure out which ones would make the cut. At the time, its 22 minutes per episode of local Canadian material was the record, according to Joan Lufrano, executive producer of the CTW international group.[4] At the time, CBC Montreal was home base for the show, despite its being filmed in Toronto. Nine CBC outlets produced segments, including Vancouver, Winnipeg, Toronto and Halifax,[4] however the 1996 credits listed the show as being "produced in" Winnipeg, Toronto, and Montreal.
Though the new version had a popular following amongst children and received several Gemini Awards and nominations, the ratings were affected by the increased availability of PBS broadcasts via cable, allowing nostalgic parents and their children to revisit the "forbidden" Oscar among others on the American series. By 2002, the series had been canceled.
Sesame Street now airs on Treehouse TV, a Canadian channel aimed at preschoolers. Various segments, including Global Grover and Elmo's World, have aired separately on the channel for many years.
Cast
Crew
Executive producer: Shirley Greenfield, Michel Lavoie
Producers: Cathy Chilco, Lina Danylo, Noah Erenberg, Pat Kent, Shirley Greenfield, David Jandrisch, Duncan Lamb, Wendy Smith
Director: Wayne Moss
Story editor: Jill Golick
Writers: Beverley Allinson,

Lily Barnes

, Kate Barris,

Allan Burke

,

Jean Charlebois

,

Chris Clark

,

Stephen D'Arrigo

,

John Dazarus

, Denise Dickin,

Tracey Forbes

, Jill Golick,

Christel Kleitsch

,

Marjanka McComb

,

Susan Marcus

, Christiane Miroglio,

Cathy Moss

, Briane Nasimok, Michael O'Hara,

Jean Rankin

, Edith Rey,

Ian Ritchie

,

Bruce Robb

, Robert Sandler, Bob Stutt,

Margo Turner

, Clive VanderBurgh, Mary Vingoe,

Robin White

Animation: Willi Ahrens, John Amatay, Ishu Patel, Animation Group, Avantage Productions, Robert Binks, Boxcar Productions, Shelly Cohen, Malcolm Collett, Ueli Dieteker, Norm Drew, Film Design, Leoni Gervais, Ivan Goricanec, Neil McInnes, Michael Mills Productions, Helene Morency, Al Pakarnyk, Graeme Ross, Al Sens, Dave Strang
Original music: Robert Charlebois, Jim Corcoran, Luc Gilbert, Great Big Music, Bill Iveniuk, Dave Jandrisch, Robert Lafond, Bruce Ley, Linda Morrison, Bill Skolnik, Angelo Oddi
Educational consultants: Alison D'Anglejan, Ph.D., Margie Golick, Ph.D.
Executive in charge of production: Doug Barnes
Creative head of children's programming: Peter Moss
Notes
See also
Sources
Greer, Sandy. "Cuddly New Canadians." Toronto Star, March 7, 1987.
Truglio, Rosemarie T. G is for Growing. Lawrence Erlbaum: New Jersey, 2000.
"Meet Canada's Own Muppets." Toronto Star, October 16, 1986.
External links