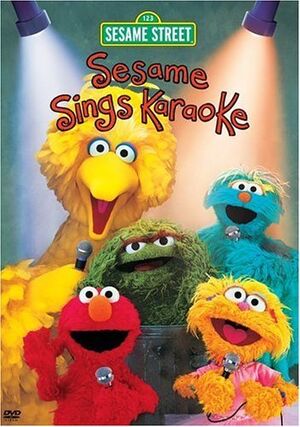 Sesame Sings Karaoke is a 2003 Sesame Street direct-to-video release. The video compiles two Street scenes from Season 34: Episode 4031 (the season premiere) and Episode 4046.
Many of the songs sung during the stories are intercut with other versions of the songs, including "A New Way to Walk", "Let's Go Driving", and "The People in Your Neighborhood". The scenes are linked together with new framing material featuring Elmo and Note, an animated musical note.
Segments
DVD chapters
Elmo Sings
Somebody Come and Play
Sing, Sing A Song
Rosita's Gonna Get to You
Rosita and Elmo Meet at Last!
Elmo & Note Scat!
Hola Means Hello -- Rosita
The People in Your Neighborhood -- Bob & Friends
The Alphabet Song -- Sing Along!
Home Video Credits
Director: Jim Martin
Writer: Christine Ferraro
Producers: Laurie Sude, Dionne Nosek
Associate Producer: Steve Harper
Production Coordinator: Jennifer Smith
Animation: Cablevision, Inc.
Melody: Kevin Clash
Music: Tony Leghner
Editor: John Tierney, Creative Bubble
Mixer: Bob Schott, Sony Studio
Other releases