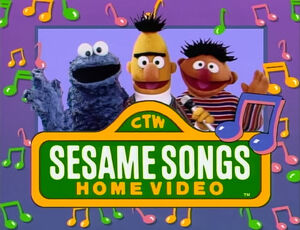 Sesame Songs Home Video was a series of videos themed around songs from Sesame Street, originally released by Random House Home Video starting in 1990. The first editions of these tapes were packaged with an illustrated poster with lyrics from the songs included in the video.
The opening sequence features a still of Cookie Monster, Bert, and Ernie behind the logo, with an instrumental version of "Sing" playing in the background. A child's voiceover reads the onscreen title, except in Sing-Along Earth Songs, which has Grover reading the title.
Four videos from this series were released in 1990: Monster Hits!, Sing Yourself Silly!, Rock & Roll! and Dance Along!. Two more, Sing, Hoot & Howl with the Sesame Street Animals and Elmo's Sing-Along Guessing Game, were released in 1991, and an additional two, We All Sing Together and Sing-Along Earth Songs, were released in 1993. All but the latter were re-released by Sony Wonder and other distributors.
Most later DVD releases of the videos either edit or omit the opening title sequence. An abridged version of the opening sequence appears at the start of Big Bird Sings!, even though it was not branded as part of the series.
Video Numbers
Each video was numbered with a proof-of-purchase box on one side of the packaging.