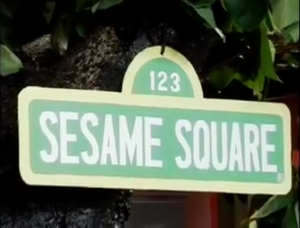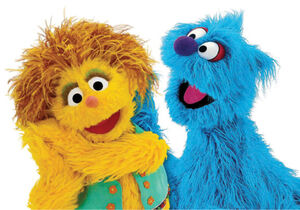 Sesame Square is the Sesame Street co-production for Nigeria. It is an extension of The Adventures of Kami and Big Bird initiative launched in early 2009.
The United States Agency for International Development has provided a five-year grant to produce seventy-eight 30-minute episodes for the series. The grant also allows for outreach materials and research initiatives.
The series' intention is to bring messages to Nigerian children about staying in school, girls' empowerment and HIV/AIDS.
Each half-hour episode features original content with local talent as Kami and Zobi. The show also features inserts from Sesame Street dubbed into Nigerian English accents.[1] The series also includes elements from Global Grover, Play with Me Sesame, Elmo's World, Bert and Ernie's Great Adventures and Sesame Street English.
Yemisi Ilo is the executive producer, based out of Lagos.
Characters
Zobi: A taxi-driver who speaks with a Nigerian lilt. He has an obsession with yams.
Sources
↑ "Welcome to Nigeria!" by Noel MacNeal, July 5, 2010
WorldScreen.com "Sesame Street Heads to Nigeria" by Kristin Brzoznowski, December 2, 2009
Variety Sesame Street goes to Nigeria by Bobbie Whiteman, December 7, 2009
Community content is available under
CC-BY-SA
unless otherwise noted.