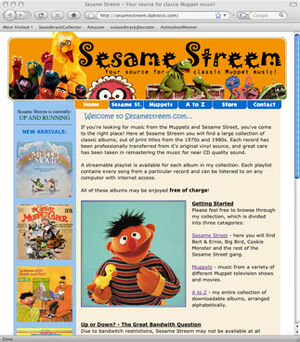 | | |
| --- | --- |
| URL | www.sesamestreem.com |
| Active | December 27, 2008 - present |
| Type | Unofficial Fansite |
| Creator | Jay Svoboda |
Sesame Streem is a website featuring audio streams of Sesame Street- and Muppet-related albums. This ever-growing collection of music is organized into full-length album releases, giving visitors the opportunity to enjoy out of print titles from the 1970's and 1980's in their entirety.
Albums can be browsed in alphabetical order, or by category: Sesame Street or The Muppets. A streamable playlist is available for each album in the collection and can be listened to on any computer with internet access.
Created and maintained by Jay Svoboda, the site holds no copyright over the music contained within and should be used for entertainment purposes only. All of the music has been professionally transferred from the original vinyl source by Jay, with an emphasis on remastering the sound to near CD quality.
Most recent additions (1/10/10): The Best of Bert, The Best of the Count, David Daydreamin' on a Rainy Day, Fair Is Fair, The Gang's All Here!, My Name is Roosevelt Franklin, Pete Seeger & Brother Kirk Visit Sesame Street, A Sesame Street Christmas, Sleepytime Bird, Somebody Come and Play, Surprise!
(9/12/09): Big Bird Discovers The Orchestra, For The First Time, Bounce Along With Big Bird.
(8/21/09): Love, Camping In Canada, Grin & Giggle with Big Bird, Bert and Ernie: Side By Side.
(8/3/09): The Count Counts, Every Body's Record, Sesame Mucho, Aren't You Glad You're You, Sesame Disco, The Sesame Street Fairy Tale Album, Sesame Street Live, What Time Is It On Sesame Street, How To Be A Grouch.
External links