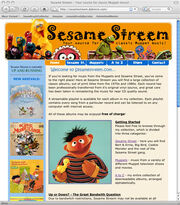 Sesame Streem is a website featuring audio streams of Sesame Street and Muppet-related albums. This ever-growing collection of music is organized into full-length album releases, giving you the opportunity to enjoy out of print titles from the 1970's and 1980's in their entirety.
Albums can be browsed in alphabetical order, or by category: Sesame Street or The Muppets. A streamable playlist is available for each album in the collection and can be listened to on any computer with internet access.
Created and maintained by Jay Svoboda (User:Sesamestreem), the site holds no copyright over the music contained within and should be used for entertainment purposes only. All of the music has been professionally transferred from the original vinyl source by Jay, with an emphasis on remastering the sound to near CD quality.
| | |
| --- | --- |
| URL | www.sesamestreem.com |
| Active | December 27, 2008 - present |
| Type | Unofficial Fansite |
| Creator | Jay Svoboda |
External Links
Available Albums (alphabetically)
Community content is available under
CC-BY-SA
unless otherwise noted.