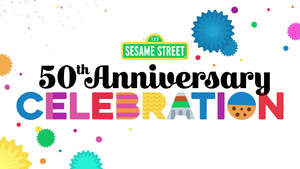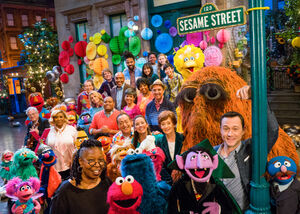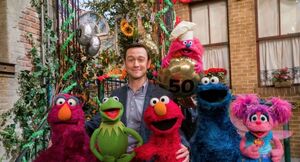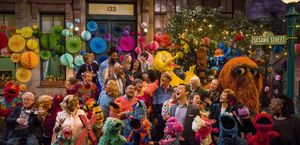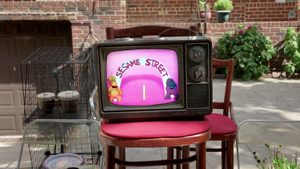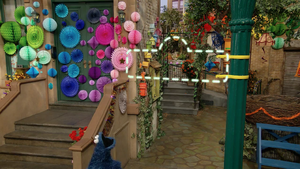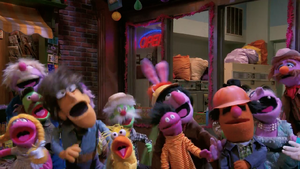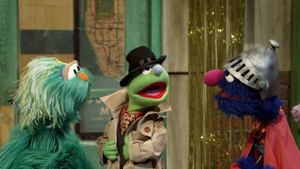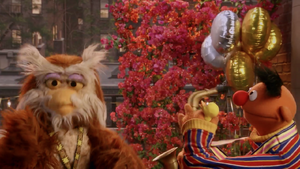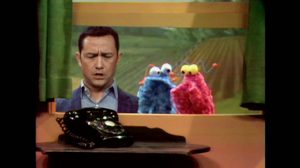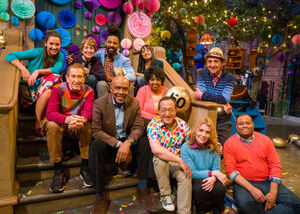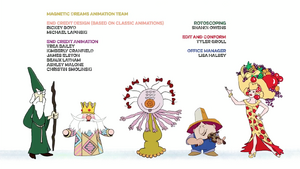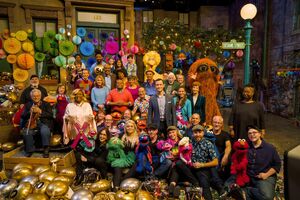 Sesame Street's 50th Anniversary Celebration is a primetime special commemorating Sesame Street's 50th anniversary. The special aired on November 9, 2019 on HBO, followed by a November 17th airing on PBS. The special kicked off the show's landmark 50th season, which began on HBO the following Saturday.
The special was announced as early as July 2018,[1] where it was said to feature celebrity guests, along with "new takes on classic segments" and "visits from Sesame Street icons,"[2] while also focusing on "the show's cultural impact."
The special was released on DVD and digital download on December 3.[3]
Press kit description
"Sesame Street's 50th Anniversary Celebration is an all-ages primetime event that offers a sweeping look back at fifty years on the Street. Hosted by Joseph Gordon-Levitt, the special reimagines classic segments and songs as the Sesame Street gang gets ready for a big party to celebrate the neighborhood's 50th birthday. When the famous street sign goes missing before the party, it's up to Elmo, Rosita, Grover, and Abby to track it down, while Big Bird and Snuffy plan a surprise of their own.

This star-studded special includes cameos from rare characters like Roosevelt Franklin and Kermit the Frog, and visits from celebrity guests. Joseph Gordon-Levitt serves as the audience's guide, breaking the fourth wall to talk to viewers about his favorite Sesame Street memories. (He also pops up inside some of those classic moments, discovering a telephone with the Yip Yip Martians, practicing "near" and "far" with Grover, and joining the shocked crowd meeting Snuffy for the first time.)"
Songs
Notes
The PBS preview clips, published prior to the special's airing on both HBO and PBS, features a slightly different version of "Count Me In" in the opening.
The plot of the street sign going missing had previously been explored twenty-one years earlier in Episode 3699.
Awards
The special won six 2020 Daytime Emmy Awards, including:
Outstanding Special Class Special
Outstanding Writing for a Special Class Special
Outstanding Technical Team
Outstanding Principal Performance in a Daytime Program (for Ryan Dillon)
Outstanding Main Title and Graphic Design for a Live Action Program
Outstanding Multiple Camera Editing
It was additionally nominated for:
Characters
Muppets:
Abby Cadabby, the Amazing Mumford, Baby Bear, Bert, Big Bird, Captain Vegetable, Cookie Monster, Count von Count, Dish, Don Music, Elmo, Ernie, Forgetful Jones, Goldilocks, Gonger, Grover (and Super Grover), Grundgetta, Guy Smiley, Harvey Kneeslapper, Herry Monster, Honkers, Hoots the Owl, Horatio the Elephant, Jacket, Julia, Lefty the Salesman, Letters of the Alphabet (A, B, C, X, Y), Mama Bear, the Martians (archival footage), Mr. Snuffleupagus, Old MacDonald, Oscar the Grouch, Roosevelt Franklin, Rosita, Rudy, Sherlock Hemlock, Spoon, Telly Monster, Two-Headed Monster
Background Muppets:
Animated
Cast
Host
Cast
Special Guest Stars
Sesame Street Muppet Performers
Pam Arciero, Jennifer Barnhart, Tau Bennett, Warrick Brownlow-Pike, Tyler Bunch, Leslie Carrara-Rudolph, Frankie Cordero, Stephanie D'Abruzzo, Ryan Dillon, Stacey Gordon, Chris Thomas Hayes, Paul McGinnis, Noel MacNeal, Eric Jacobson, John Kennedy, Peter Linz, Spencer Lott, Carmen Osbahr, Martin P. Robinson, David Rudman, Matt Vogel
Special Appearance By
Extras
Rohan Agneshwar, Kaden Anderson, Adrianna Aquavella, Aydin Artis, Mark Christopher, Pierce Cravens, Lailene Delos Santos, Holanda Demeloitz, Saffron Faith, Adian Fong, Veronica Frazier, Kay Gaffney, Kafayat Gboladel, Lukas Gilkison-Parrish, Sheila Glenn, Zoe Glick, Kimberly Gorman, Deborah Grausman, Chris Guttadaro, Anika Hatch, Connor Hawke, Leah Horowitz, Joe Huu, Anna Kuchma, Sarah Lockwood, J. Elaine Marcos, Barry Mitchell, Erin Moore, Brianna Growalt, Hudson Loverro, Tayanah Jn Philippe, Kavon Newman, Martin Rohleder, Azra Tahirovic, Christina Williams, David Wong, Leonard Zimmerman
Special Extras
The Baker (Voice) By
Credits
Executive Producers: Brown Johnson, Benjamin Lehmann, Ken Scarborough
Producers: Mindy Fila, Todd E. James, Karyn Leibovich, Stephanie Longardo, Autumn Zitani Stefano, M.A.
Directed By Jack Jameson
Head Writer: Ken Scarborough
Writer: Christine Ferraro
Digital Producer: Andrew Moriarty
Senior Vice President of Curriculum and Content: Rosemarie T. Truglio, Ph.D.
The Jim Henson Company NY Creature Shop

Puppets, Costumes, and Props: Ben Durocher, Joel Gennari, Tyler Hall, Michelle Hickey, Joshua Holden, Rollie Krewson, Sarah Lafferty, Anney Ozar, Constance Peterson, Sierra Schoening, Keely Snook, David Valentine, Jason Weber, Stacey Weingarten, James Wojtal
Production: Melissa Creighton, Joseph Roddy, Gabriella Degennaro, Carolyn Fanelli, Rich Dyar

Music Copyist: Joe Fiedler
Sesame Street Band: Randy Cohen, Michael Croiter, John Deley, Doug Derryberry, Joe Fiedler, Rob Jost, Gary Meyer, Kenny Rampton
Sound Effects Editor/Re-Recording Mixer: Dick Maitland, C.A.S.
Music Editors: Tyler Hartman and Paul Rudolph
Supervising Music Editor: Michael Croiter
Music Director: Bill Sherman
Music Director (Arrangements and Orchestrations): Joe Fiedler
Music Director (Vocals): Paul Rudolph
Composers: Christopher Cerf, Joe Fiedler, Tony Geiss, Jeff Moss, Joe Raposo, Bill Sherman, William Vaughn
Lyricists: Tony Geiss, Bruce Hart, Emily Kingsley, Jason Kingsley, Jeff Moss, Joe Raposo, Ken Scarborough, Norman Stiles, Jon Stone
Sign Language Interpreter: Lynette Taylor
Associate Director: Ken Diego
Control Room Production Assistants: Christina Elefante and Andrew Moriarty
Stage Managers: Frank Campagna, Phyllis Digilio-Kent, Shawn Havens
Production Designer: David Gallo
Cameras: Frank Biondo, Jerry Cancel, Shaun Harkins
Utility: Barbara Bianco (Video), Keith Guadarrama (Video), John Neroulas (Audio), Gordon Price (Audio)
Cold Open Directed By Benjamin Lehmann
"I Remember" Directed By Matt Vogel
Magnetic Dreams Animation Team:
Taped at Kaufman Astoria Studios
Sources
See also
External links
Community content is available under
CC-BY-SA
unless otherwise noted.