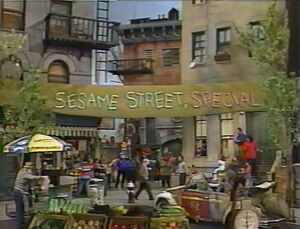 Sesame Street, Special was a pledge-drive special that first aired on PBS on March 7, 1988.[1] It featured some new material as well as repeat segments from the show.
When the special was released on video, the title was changed to Put Down the Duckie, and had a few other changes made, the most major change being the editing of an entire sequence where Kermit the Frog interviewed Oscar the Grouch about public television. Since that scene was meant to lead to a pledge break, and the video didn't have any pledge break, this entire sequence was cut.
Several PBS stations repeated this special in 1994 during a pledge drive. The special was still called Put Down the Duckie and the Kermit and Oscar scene was present, but the "Sesame Street Special Report" was cut and replaced with an H. Ross Parrot sketch.
Segments
Picture
Summary

"Sesame Street Theme" with Gladys Knight and The Pips
Phil Donahue interviews the cast. Oscar the Grouch, Grundgetta and a few other Grouches complain that there's not enough trash or arguing and too much cooperating. Maria denies this, stating the opposite. She also tells Phil that since Oscar's a Grouch everything on Sesame Street is always too nice for him, but Count von Count agrees with Oscar that Sesame Street is not perfect because there is not enough counting. Ernie tells Phil that his Rubber Duckie wants to say something and is then followed by a Dinger, a Duck and a Honker who all want to say things. Bob then tells Phil that Linda has something to say, and translates her sign language by saying that everybody on Sesame Street really likes kids.

Monsterpiece Theater: The 39 Stairs

When this special was originally broadcast, the original Union Jack title card was used, but on the video release of Put Down the Duckie, the opening was replaced with the 1992-1995 opening. The Alistair Cookie scenes at the beginning and end of this sketch were also re-shot to edit out Alistair Cookie's pipe.

Bruno the Trashman carries Oscar the Grouch, who goes into his trash can when he hears that Bob is about to sing "The People in Your Neighborhood". Bob is joined by a tennis player, Martina Navratilova, a reporter, Barbara Walters, and a consumer advocate, Ralph Nader. After the song, Oscar comes out of his trash can and realises that the song wasn't half-bad, and asks for an encore.




"Put Down the Duckie" with Ernie, Hoots the Owl, and celebrities.

Kermit interviews Oscar to find out why he likes public television. However, Oscar vehemently denies that he likes public television. Kermit attempts to mention several reasons to like public television, but Oscar likes the opposite of those reasons. When Kermit is finally convinced that Oscar does not like public television, he introduces the following pledge break. Oscar overhears this, asks if this is when PBS interrupts programs to ask people to pledge money when the people would rather just watch the show, and phones ring nonstop. Oscar likes this, and asks when he can watch it. Kermit says that he can watch it now, leading to a pledge break.
When this special was released on video, this entire sequence was cut.

Oscar comments on the pledge drive; he taped it!


When this special was released on video, this entire sequence was cut.

"Oh, How I Miss My X" with Patti LaBelle
Grover the Singing and Dancing Waiter

"Sing Your Synonyms"

"A Sesame Street Special Report" with Robert MacNeil. Cookie Monster has been accused of stealing Susan's and Gordon's cookies in a scandal called the "missing cookies affair" or "Cookiegate". Kermit acts as Cookie Monster's lawyer during Robert MacNeil's interview.

When this special was re-aired on PBS in 1994, this segment was cut.

Big Bird introduces H. Ross Parrot, who gives a speech to the kids about the importance of the alphabet.

When this special was re-aired on PBS in 1994, this segment replaced the above segment.

"Jellyman Kelly" with James Taylor.
Pretty Great Performances: "Italian Street Song"

"Put Down the Duckie" reprise as the end credits roll, featuring appearances by Martina Navratilova, Andrea Martin, Jane Curtin, Gladys Knight and the Pips, Ralph Nader, the Sesame Street cast, Robert MacNeil, Barbara Walters, Paul Simon, and Phil Donahue.

Hoots tells Ernie that he has a problem. Everytime Hoots squeaks "his" Rubber Duckie, it makes a weird sound. After demonstrating Ernie tells Hoots, "You gotta put down the saxophone if you wanna squeak your duckie!"
Cast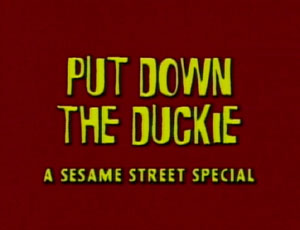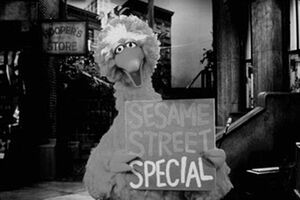 Phil Donahue, Martina Navratilova, Barbara Walters, Gladys Knight and The Pips, Ralph Nader, James Taylor, Patti Labelle, Seiji Ozawa, Robert MacNeil, Carl Banks, Celia Cruz, Danny DeVito, John Candy, Andrea Martin, Rhea Perlman, Paul Reubens, Madeline Kahn, Jean Marsh, Joe Williams, Paul Simon, Pete Seeger, Keith Hernandez, Mookie Wilson, Sean Landeta, Mark Ingram, Karl Nelson, Ladysmith Black Mambazo, Jeremy Irons, Itzhak Perlman, Gordon Jackson, Wynton Marsalis, Jane Curtin
Crew
Directed by Jon Stone
Written by Norman Stiles, with Christopher Cerf, Cathi Rosenberg-Turow, Mark Saltzman, Nancy Sans, Luis Santeiro
Muppets by Kermit Love, Caroly Wilcox, Jitka Exler, Richard Termine, Stephen Rotondaro, Peter MacKennan, Mark Zeszotek
Conductor: Dave Conner
Music Coordinator: Danny Epstein
Production Supervisor: Frieda Lipp
Associate Director: Ted May
Production Designer: Victor DiNapoli
Costume Designer: Bill Kellard
Graphic Artist: Mike Pantuso
Set Decorator: Nat Mongioi
Production Stage Manager: Chet O'Brien
Stage Manager Mortimer J. O'Brien
Production Assistants: Cheryl Ann Jung, with Carol D. Mayes, Ruth Hiatt
Assistant to the Producers: Danette DeSena
Script Coordinator: Thelma Moses
Sound Effects: Dick Maitland
Audio: Blake Norton, Tim Lester
Cameras: Frank Biondo, Dave Driscoll
Coordinating Producer: Arlene Sherman
Producer: Lisa Simon
Executive Producer: Dulcy Singer
Sources