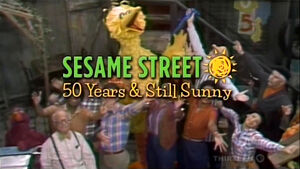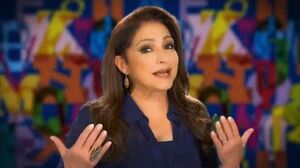 Sesame Street: 50 Years & Still Sunny! is a PBS documentary highlighting the history and impact of Sesame Street in light of its 50th anniversary. The documentary was used as a special pledge season program.
Hosted by Gloria Estefan, the documentary features newly recorded interviews with celebrities, cast and crew members, as well as the show's Muppet Performers and PBS viewers.
The documentary was originally scheduled to premiere as early as December 4, 2019,[1] but was subsequently rescheduled to air in March 2020.
Interviewees
Industry Professionals
Pam Arciero, Fran Brill, Ken Burns, Emilio Delgado, Jeffrey D. Dunn (President, Sesame Workshop), Jodie Foster, Eric Jacobson, Paula Kerger (President, PBS), Emily Perl Kingsley, Rollie Krewson, Benjamin Lehmann, LL Cool J, Sonia Manzano, Bob McGrath, Roscoe Orman, Carmen Osbahr, Itzhak Perlman, Martin P. Robinson, Bill Sherman, Rosemarie Truglio, Eduardo Vilaro (Artistic Director, Ballet Hispanico), Matt Vogel, Jason Weber
Viewers
Syhemia Grey-Cruz, Geoff Ritter, Takeshia Stokes, Savannah Watts
Notes
Credits
Producer/Director: Bob Marty
Co-Producer/Writer: Andrew Ames
Editor: Andrew Eder
Post-Production Supervisor: Eli Brown
Production Designer: Kelly Brower
Director of Photography: Nick Blair and Gordy Waterman
Sources
External links
Community content is available under
CC-BY-SA
unless otherwise noted.