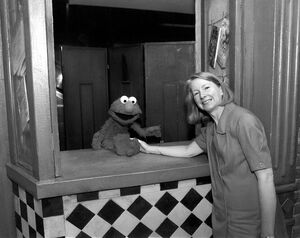 Sesame Street: The First 20 Years is a Sesame Street exhibition at the Smithsonian National Museum of American History that ran from June 20 - October 15, 1989.
Celebrating the show's 20th anniversary, the exhibition features elements of the Sesame Street set (the Hooper's Store facade, a representation of the Fix-It Shop, and the signature lamppost and street sign), posers of the Muppet characters (Big Bird, Oscar the Grouch and Slimey), archival photographs, and other props and production materials (such as Rubber Duckie, animation cels and storyboards).
Elmo (Kevin Clash) and Susan (Loretta Long) appeared at the opening.
It was located in the corridor of the museum's basement that led to the cafeteria.
One news article called the exhibition 1969-1989, The First 20 Years.
It ran concurrently to the exhibition "American Television, From the Fair to the Family, 1939-1989".
See also
Sources
Associated Press, "Smithsonian gets its own Sesame Street", The Vancouver Sun, 24 June 1989, D13.
Katherine McIntire, "Sesame Street eanrs its place in history", Calgary Herald, 26 June 1989, A14.
John Mulligan, "Smithsonian's exhibit of TV history whale of a show", The Ottawa Citizen, 21 October 1989, I10.