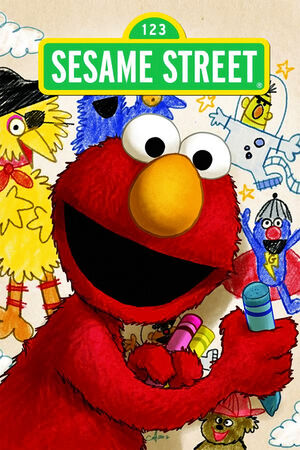 Sesame Street is a comic book series from Ape Entertainment based on the television show Sesame Street.
The first issue was released on May 1, 2013, with subsequent issues following in 2015 and 2016.
The digital version of each issue features Tantan — an orangutan (Ape Entertainment) — from Jalan Sesama on the table of contents, explaining how to navigate pages and panels on a smart device.
Official description
"From television to the comic panel, Ape Entertainment will portray the characters that millions of parents and children have come to know and love in a comic series that will be produced in full color and available in stores this fall in standard comic sized printed editions for $3.99 and digest sized hardcover comic book editions for $7.99. They will also be available as a digital comic book that will be available through Apple's App Store for iPad, iPhone and iPod touch."
Issues
Issue #1 - I is for Imagination
The first issue was scheduled for release in the fall of 2012,[1] but was pushed to April 2013,[2] and then to May 1st.[3] There are six different covers (illustrated by Amy Mebberson), five of which interlock and become a larger image.

"Sunny Day! Chase the clouds away as Sesame Street comes to comics for the FIRST TIME! Join Elmo, Big Bird, Grover, Cookie Monster and all of your favorites in this fantastic first issue! Featured this issue, Elmo decides to become a superhero, but he doesn't have any powers! It will be up to the always lovable Super Grover to teach Elmo that he can have any superpowers he wants, because he already has the GREATEST superpower ...imagination![2]"
Stories:
Issue #2 - Another Sunny Day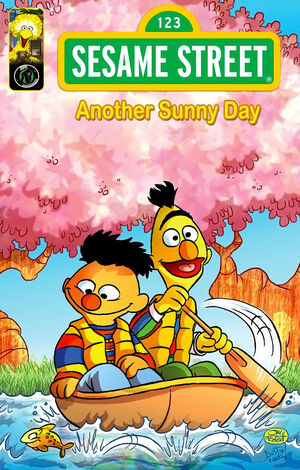 A follow-up to the first issue titled "Friendship" was originally scheduled for release on February 26, 2014, but ultimately was not released. A new installment of the Sesame Street comic series titled "Another Sunny Day" was released on October 28, 2015. The final cover, depicting Ernie and Bert rowing on a lake, was one of five planned variant covers illustrated by Jay P. Fosgitt.[4]
"Join Cookie Monster as he enlists the help of his friends on Sesame Street to search for a missing picnic basket on a sunny day in the first in a new series of Sesame Street comic books. Additional Sesame silliness also included![5]"
Stories:
Planned cover variants
Issue #3 - Blast from the Past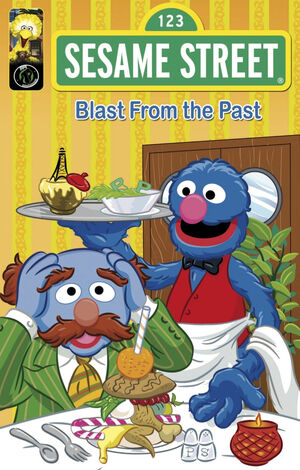 "Blast from the Past" was released on November 23, 2015.[6]
"Can you imagine what Elmo finds when he digs for dino bones? Hint: It's really BIG! Join Elmo and his Sesame Street friends as they apply simple science and math to dig deep into the past in issue #3 of this series of all-original Sesame Street comics. In three more fun stories, Snuffy meets his shadow, a Sesame cowpoke learns to measure with the help of his 10-gallon hat, and Elmo helps Abby and Oscar meet in the middle – somewhere between smelly socks and rainbows and unicorns. Plus...a page of tips for reading comics with kids."
Stories:
Issue #4 - Many Friendly Neighbors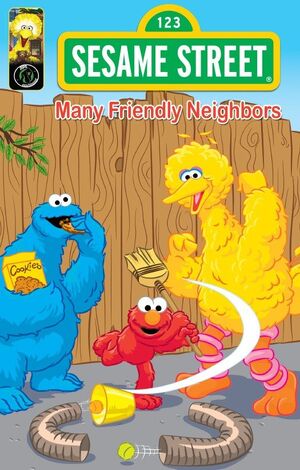 "Many Friendly Neighbors" was released on January 1, 2016.[7]
"What do you get when the whole neighborhood teams up to make a great game? A hole in one very fun golf course, of course! Elmo and Big Bird star in the first of four terrific stories inside issue #4 of this series of all-original Sesame Street comics. Fans of classic characters will will love spotting Herb the dinosaur and Captain Breakfast, while Grover and Cookie pop up with other favorite friends in spoofs of popular superhero and sci-fi hits – "The Walking Tired" and "The Avegetables" – with slyly funny, Sesame-style messages promoting healthy habits. Plus...a page of tips for reading comics with kids."
Stories:
Digital Exclusive - H is for Hero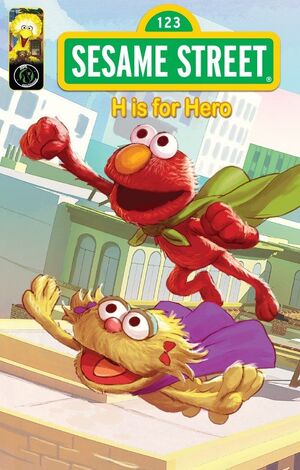 "H is for Hero," a reissue of "I is for Imagination," was released on November 30, 2016 it was released digitally via Apple iBooks, Amazon Kindle, and Google Books.
"What does it take to be a fuzzy and adorable superhero? Super Grover has some tips for Elmo...and all young readers of this first book in a series of all-original Sesame Street comics. This issue includes six stories starring so many of your favorite friends from the neighborhood: Cookie Monster, Ernie and Bert, The Count, Oscar, and more. Catch these characters in all-new art, in stories about courage, heart, getting along, helping out, and imagination. Plus...a page of hints for how to read comics with kids."
Development
In October 2011, Ape Entertainment announced that they were in negotiations with Sesame Workshop to produce and publish Sesame Street comics - both as full-color print editions and as digital editions available through iTunes.
"We are incredibly excited about our current negotiations with Sesame Workshop and the possibility of being able to bring their expertise in educating and entertaining children to comics. I love the idea of creating educational comics that will both teach and entertain children. And the possibility of getting to work with Elmo, Big Bird, Cookie Monster and Grover, well...that's just a dream come true."
—Brent Erwin, Ape Entertainment COO
Amy Mebberson created sample artwork for the first comic book. Aside from the street sign, the entire sample cover was watercolor; Mebberson is hoping to do the entire publication that way, like many of the classic Sesame Street books.[8] Early solicitation covers showed Elmo hanging from the Sesame Street lamppost. However, the cover was changed.
| | |
| --- | --- |
| | |
| Early solicited cover artwork, with Elmo hanging off the Sesame Street lamppost. | Altered to have Elmo sitting on Big Bird's wing. |
Sources
External links
Community content is available under
CC-BY-SA
unless otherwise noted.