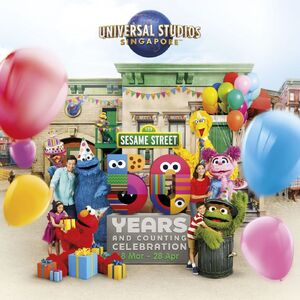 Sesame Street 50 Years and Counting Celebration was a special event held at Universal Studios Singapore from March 8 to April 28, 2019, in celebration of Sesame Street's 50th anniversary. The event was an overlay on the park's Hollywood and New York zones.
In Hollywood, the Hollywood Boulevard area was re-themed as the Sesame Street Birthday Party Blowout Zone. A special exhibition, A Walk Down Sesame Street, presented at Soundstage 28, included sets representing the 123 Sesame Street stoop, and Ernie and Bert's apartment, and a live show, Getting to Know Big Bird.
Sesame Street Birthday Blowout Show, a stage show performed in front of the New York Public Library, included a special guest appearance by Lily the tiger from Zhima Jie: Da Niao Kan Shijie, the Chinese Sesame Street co-production. Also in the New York zone, three live character attractions comprised the Sesame Street Block Party: Oscar the Grouch participated in the regular Rhythm Truck show, rebranded as Oscar's Rhythm Trash, while Sting Alley hosted a special meet and greet photo op with Big Bird in his nest along with a live show, Abby's Fairy Garden.
New York
Sesame Street Birthday Blowout Show: Live show performed in front of the New York Public Library. Elmo, Cookie Monster, Abby Cadabby, and The Count organize a party celebrating Sesame Street's 50th birthday. More friends soon join in: Oscar, who is looking forward to the inevitable mess they'll make (as birthdays always have the best trash), and Grover, who shows up dressed as a bird to sing "Shake a Tail Feather", only to find out, to his embarrassment, that it's a birthday party and not a "Bird Day" party. Bert and Ernie appear as the magician duo The Great Bertini and Ernesto, performing a magic show (with "The Final Countdown" instrumental as background music). Lily the tiger flies in from China with a special gift for everyone: scrolls that read "Happy 50th Birthday Sesame Street" in Mandarin. Elmo and the gang find the language hard to master at first, but with a little practice, they succeed ("The Power of Yet"). The show ends with the audience being asked to help blow out the candles on the giant cake (the stage) as the Count counts down to party time. "Happy Birthday" by Stevie Wonder plays as the Sesame Street gang celebrate.
Abby's Fairy Garden: Live show at Sting Alley. A gardener helps Abby Cadabby figure out what season is best for growing broccoli seeds in her garden. The show features the song "Abby's Fairy Garden."
Big Bird's Nest: Character greeting experience at Sting Alley. Guests can tour Big Bird's nest area, and pose for photos with Big Bird.
Oscar's Rhythm Trash: Oscar the Grouch interrupts the Rhythm Truck crew's regular street show, commenting on the loud noise they're making. The DJ apologizes, but Oscar assures him he doesn't need to, as he loves it and insists on joining them. The newly (self) appointed "O.G." ("Original Grouch") leads the Rhythm Truck crew, rechristened as the Rhythm Trash crew, in a rendition of "Honk, Bang, Whistle and Crash". The DJ then invites members from the audience to play a game of Trashketball, where contestants throw a piece of trash from two groups - recyclables and general waste - into their respective bins. The show ends with Oscar performing a remixed version of "Grouch Thrift Shop" while the Rhythm dancers break dance.
Hollywood
Sesame Street Birthday Party Blowout Zone: Celebration overlay on Hollywood Boulevard.
A Walk Down Sesame Street: Immersive gallery at Soundstage 28 featuring many familiar Sesame Street scenes such as the famous 123 stoop, as well as Ernie and Bert's apartment. Guests participated in a "happy happy dance" with Elmo via green screen and waved Abby's Magic Wand on a touch screen.
Getting to Know Big Bird: A sing-along show presented in Soundstage 28 as part of A Walk Down Sesame Street, featuring Big Bird and host Alex. Guests had their photo taken with Big Bird at the end of the show. Songs include "Big Bird's Song," "Big Bird Doesn't Fly" and "Rockin' Robin."
Oscar the Grouch Trash Can Exhibition & Colouring Activity: 50 local and regional celebrities, influencers, as well as students from Pathlight School – the first autism-focused school in Singapore - participated in a unique art exhibition inspired by Oscar the Grouch and his trash can. Each individual decorated their own trash can that went on display at various locations within Resorts World Sentosa, including Universal Studios Singapore. The trash cans on display were populated with Living Puppets' Oscar puppets.
Sesame Street collectible pins sold at gashapon machines outside Hollywood China Arcade. 10 designs were available.
Other promotions included a giant inflatable Elmo in front of ION Orchard, Raffles City Shopping Centre and Universal Studios Singapore, as well as collaborations with local street artists ANTZ, Yip Yew Chong and Tiffany Yao who each delivered their own creative interpretations of Sesame Street in a special mural at Bugis Junction from March 4 to 24.
See also
External links
Community content is available under
CC-BY-SA
unless otherwise noted.