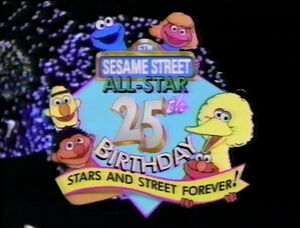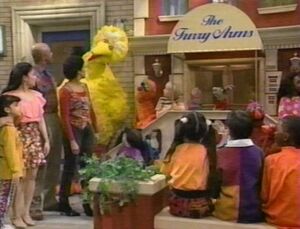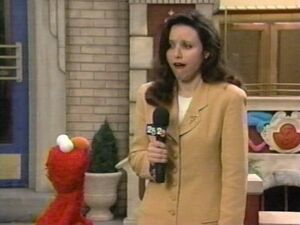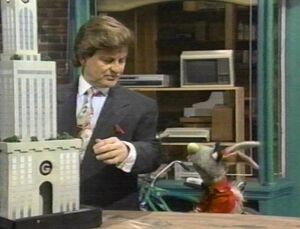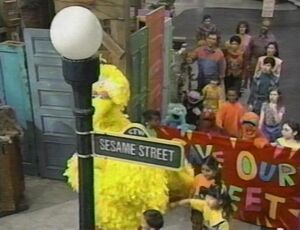 Sesame Street All-Star 25th Birthday: Stars and Street Forever! was a 1994 TV special that aired on ABC to celebrate Sesame Street's 25th anniversary. It was originally broadcast on May 18, 1994.[1]
The show featured Joe Pesci (as Ronald Grump), Corbin Bernsen (as real estate attorney, Arnie), Danny DeVito and Rhea Perlman (as Worm TV hosts), John Goodman (as Tough Guy Helpline operator), Charles Grodin (as Chaz), Julia Louis-Dreyfus (as reporter Kathie Lee Kathie), Rosie O'Donnell (as the Good Hope Fairy), Susan Sarandon (as Bitsy), Barbara Walters (reporting for 25/25), and Regis Philbin and Kathie Lee Gifford (as themselves).
Celebrities from archive footage include Sally Field, Jodie Foster, Whoopi Goldberg, Lena Horne, Jeremy Irons, Bo Jackson, Martin Short (as Ed Grimley) with Billy Crystal, John Candy, Ray Charles, Glenn Close, Jamie Lee Curtis, Annette Bening, Candice Bergen, Itzhak Perlman, Linda Ronstadt, Diana Ross, Barbara Walters, Phoebe Cates, Kevin Kline, Maya Angelou, En Vogue, Aaron Neville, Henry Winkler (as The Fonz), Jay Leno, Carol Kane, Julia Roberts, Jim Carrey, Jane Curtin, Marisa Tomei, Mel Gibson, Robin Williams, Paul Simon, Lily Tomlin (as Ernestine), Denzel Washington, Marlee Matlin, Patti LaBelle, and Marilyn Horne.
Synopsis
Tycoon billionaire Ronald Grump (a parody of Donald Trump played by Joe Pesci) wants to demolish Sesame Street to build his Grump Tower, and it's up to the Sesame Street citizens to save their favorite buildings from being destroyed.
Notes
At the age of 14, John Tartaglia visited the set of the special and was roped into his first puppeteering job for the show. He assisted John Kennedy in performing Count von Count (to Jerry's vocal track) in one scene.[2]
Characters
Muppets
Background Muppets
Sesame Street Humans
Cast
Credits
Sources
↑ McNeil, Alex Total Television, 4th edition, section on Sesame Street.
See also
External links