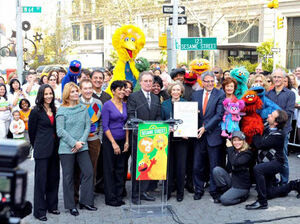 Sesame Street Day is an honorary holiday recognized by the city of New York during special street-naming ceremonies for two Sesame Street anniversary celebrations.
2009
On November 9, 2009, the corner of 64th Street and Broadway in Lincoln Square was temporarily renamed 123 Sesame Street with a dedication ceremony. New York City, by a Mayoral Proclamation from Michael Bloomberg, established November 10, 2009 as "Sesame Street Day," a day to mark the show's 40th Anniversary.
External links:
2019
Another street-naming event was held on May 1, 2019 to celebrate the show's 50th anniversary. By Mayoral Proclamation, Mayor Bill de Blasio named the day "Sesame Street Day" and helped unveil a new, permanent "Sesame Street" sign, now hanging at the intersection of West 63rd Street and Broadway.
External links:
Other

Sesamestreet.org celebrated its own "Sesame Street Day" throughout the week of November 10 - 17, 2009. The website features a celebratory playlist plus a special video greeting on the home page featuring Abby Cadabby along with Bert, Ernie, Rosita, Zoe, Herb, three penguins, Shelley, Elmo, Oscar the Grouch, Telly, The Count, Cookie Monster, Big Bird, Murray Monster, and Grover.
See also