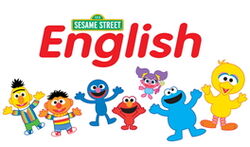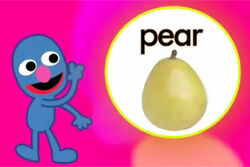 Sesame Street English is a series of 26 videos produced by Sesame Workshop in 2008 to help pre-school children learn English as a second language. The core of each episode is a two-minute cartoon, which features the Sesame Street Muppet characters animated in an anime style. The cartoons were designed by Superdeux and animated by Peter Belsky, with the Muppet performers providing the voices for their respective characters.[1]
The episodes also include live-action sequences and segments from Sesame Street, based around four key concepts: "reading readiness", "math concepts", "nature and health exploration", and "the world around me".[2]
The series also includes a Muppet segment, "Animal Confessions", in which a dog has simple conversations with hungry animals about what they eat.
Sesame Street English is a follow-up to Sesame Workshop's first ESL program, Sesame English, which launched in 1999. A 2008 Sesame Workshop press release says: "Using today's technology, Sesame Street English represents the evolution of the interactive learning experience, and engages and provides children with the opportunity enjoy focused lessons that will build the foundation for English proficiency."[2] The character designs were also used in Fun Fun Elmo, a show teaching Mandarin Chinese.
Some animated segments from the show appeared on Sesame Street during Season 40 and 41.
Sources
External links
Community content is available under
CC-BY-SA
unless otherwise noted.