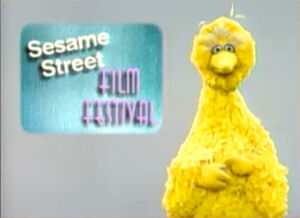 Sesame Street Film Festival is a 38-minute compilation of Sesame Street inserts, primarily animated, that showcase the variety of artists who produced content for the show, produced around 1996. The program is available for viewing at the Paley Center for Media.
The program begins with a spoof of the intro to Alfred Hitchcock Presents, with Big Bird in place of Hitchcock, but Big Bird's outline won't stay put for him to fill. Big Bird, claiming to be a "big time director," then introduces the short films, stating an old Hollywood adage: "There's no such thing as a short film, just short attention spans." The segments include:
Following the inserts, Big Bird appears again to close the program, trying to figure out what he learned from the films. He then invites his outline for a meal.