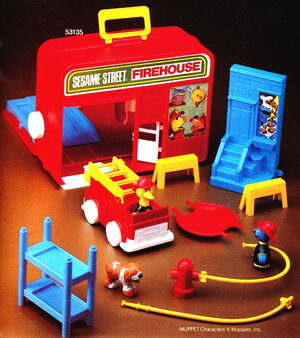 CBS Toys produced a Sesame Street Firehouse playset in 1983.
According to the 1984 Child Guidance/Gabriel Wonder catalog,
"

15-piece playset lets kids create and recreate exciting fire and rescue missions with their Muppet friends Grover, Big Bird and Barkley. Back the fire engine onto the launcher, open the big, ratcheting firehouse door, push the lever, and the engine goes ringing to the rescue. Quick, Cookie Monster's cookies are burning! Set the barricades around the fire scene. Characters can hold the hoses, carry the safety net, or ride up in the cherry picker. When the fire's out, everyone rides back to the firehouse in the engine for a nap in the bunkbeds. All the pieces store away easily in the firehouse the size of a lunchbox, and the tote handle lets kids take the adventure wherever they go!

"
This set was the third of four Sesame playsets made by CBS Toys; the others are the Sesame Street Garage (1981), Sesame Street Railroad (1982) and a 1-2-3 Sesame Street Playset (1984).
See also