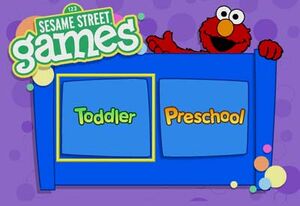 Sesame Street Games Channel is a website for Sesame Street online games, developed by 360Kid and Sesame Workshop. The channel was nominated for two Emmy Awards in 2004 and won one the following year.

Games
Bert's Bottlecaps

No matter how hard Bert tries to keep his bottle cap collection organized, one way or another Ernie manages to mess them up. Luckily for Bert, kids are on hand to help out. Children help Bert sort his bottle caps by placing them in one of five spots marked by overlapping rings. Caps are sorted by color, shape, and type (such as "animal," or "food"). Children must figure out what attribute goes in each ring. Then, for a really tough challenge, kids can place caps that match two rings in the overlap between them. But watch out when you're doneâ it looks like Ernie is playing frisbee in the house again!

Cooking with Rosita

Count and cook in Spanish with Rosita and Cookie Monster.

Dress Grover

Dress Grover in crazy outfits!

Elmo's Footprints

Elmo needs help! Kids must match the footprints to find out who made them. Was it a slithery snake, a deer or rabbit? Three options are given and children can choose one. If you are right, you will see the animal walk down the beach while Elmo cheers!

Elmo's Keyboard-O-Rama

Elmo's Keyboard-O-Rama is designed specifically for preschoolers and those learning the alphabet. With each press of a key, Elmo cheerfully calls out the corresponding letter and conjures an object or animal that starts with that letter. If a child presses a non-letter key such as a spacebar, Elmo giggles and laughs.

Elmo's Laundry Game

In Elmo's Laundry Game, color, shape and pattern recognition skills are learned and tested as Elmo asks the kids for help sorting his laundry. He has dried his clothes on a clothesline and kids need to match an item on the clothesline with the pictured item. If the correct items are chosen, Elmo catches them in his basket!

Elmo's Special Cupcakes

This linear story explores Elmo's feelings about his mommy going to work and playing with the babysitter while she is gone. Kids learn about with Elmo's feelings of uncertainty and then play a feeling game with Elmo and the babysitter, Dana. After the feeling game, everyone reads a story together, and then make collages. Bringing storytelling to new heights, children receive this narrative in several ways: visually through the animations, aurally through the narration, and also through engaging and fun interactivity.

Global Grover Grooves

Grover, as he dances, helps to teach kids different types of dancing from different cultures. Kids can help Grover design a dance sequence! The 360KID work on Global Grover Grooves includes activity design in cooperation with the Sesame Workshop team, graphic design, illustration and animation of activities, all necessary coding, clean code and webpage layout, and compatibility with most common browsers.

Limbo Elmo

A witty way to challenge kids' spatial skills, Limbo Elmo asks kids to choose the Muppet that will fit under the limbo stick! After every monster has had a chance to limbo, it's Elmo's turn! With fantastic animations and Elmo's great comments, this game is particularly fun to play.

Make Elmo a Hat

Elmo wants a new hat! Kids can choose from several patterns, colors, and accessories to add to Elmo's hat, bringing laughter and new ideas. With each hat made, Elmo expresses his joy in a new payoff animation.

Walking the Dogs

Mr. Noodle needs some guidance in finding the dogs he has to walk! Kid's voices help to tell Mr. Noodle and the player how many dogs Mr. Noodle needs to find. Once given a number, the player must help Mr. Noodle find the dogs and each one is counted until the goal number is reached. Watch out, though, Mr. Noodle has trouble walking by himself; you can imagine how hard a time he has with several dogs!

Telly's Crayons

Telly has lost his crayons and Baby Bear is there to help find them! The crayons are hidden behind several objects on the screen, and kids must deduct which objects to look under. Telly and Baby Bear guide the kids to the correct objects by naming attributes, such as the color green, or has wheels, or lives underwater. Once all the crayons are found, Baby Bear and Telly draw a fabulous picture!

Zoe's Dance Steps

Sesame Workshop came to 360KID with an interesting challenge: create a relevant activity in time for a guest appearance by Paula Abdul. The team quickly settled on Zoe's Dance Steps, a choreography activity that allows children the opportunity to create a dance routine for Zoe (as well as pick her outfits!). For this project, we utilized rotoscoping, a technique that enables animators to trace live action movement (for example, Paula Abdul dancing!), frame by frame, for use in animation.

Zoe's Pet Shelter

It's time for the animals at Zoe's Pet Shelter to go to sleep! But first they must be put in their pens and Zoe needs help sorting them. There are dogs with long and short ears, spots or not, big dogs and small dogs. There are lizards and fuzzy hamsters, too. But uh-oh, just when you've finished sorting, the animals escape and Zoe thinks of a different attribute to sort by!
Community content is available under
CC-BY-SA
unless otherwise noted.