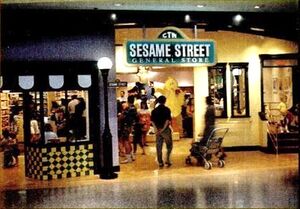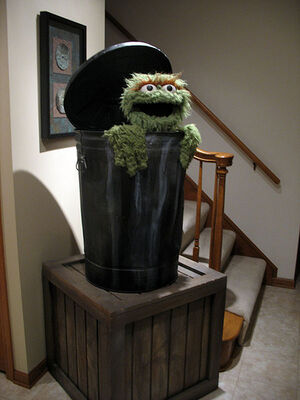 Sesame Street General Store was a chain of stores operating in the 1990s which specialized in Sesame Street merchandise (although merchandise of other Henson, Children's Television Workshop and PBS properties could also be found in the stores). The Sesame Street store had play spaces to emphasize educational elements. Play spaces include a wall where kids can draw, Big Bird's Learning and Listening Library, a garage/clubhouse to play, and a stage of the Sesame Street theater to perform.[1] Many of the storefronts were modeled after the Hooper's Store set.
The first stores were opened in 1990 -- two in Southern California, and two in Northern California.[2]
Exclusive products
In addition to the mass market Sesame Street merchandise, the General Store also carried a selection of exclusive items, including:
Oscar's trash can
Replicas of Oscar's trash can were also outside some stores, with a lifesize animatronic Oscar the Grouch created by VEE Production Services. When Oscar was inside the can, he would say one of several pre-recorded phrases:
"I'm getting my bathroom re-mildewed today, and I don't want you getting in the way... so SCRAM! Heh, heh, heh."
"Let's play a spelling game... G, O, A, W, A, Y. Do you know what that spells? GO AWAY!"
"Hey, why are you staring at my trash can? How would you feel if I stared at you? Heh, heh, heh."
"I've got nothing to say, so I'm not going to talk when I come out. So you might as well just get lost... SCRAM!"
After saying his phrase, Oscar would pop out of the can to smile and grimace at guests for a few seconds.
Today, many of the animatronic Oscars still survive. Most are owned by private collectors and have shown up on EBay. Another animatronic Oscar resides at the FAO Schwarz store in Las Vegas. There was also a version displayed on a Dutch exhibition.
Shopping bags
Sources
Community content is available under
CC-BY-SA
unless otherwise noted.