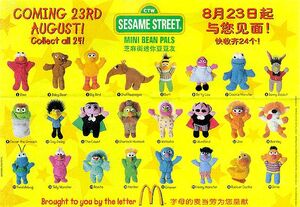 In 1999, McDonald's Singapore released a set of 24 mini bean bag toys to celebrate the 30th anniversary of Sesame Street.
These toys were identical to the series that was released in boxes of Kellogg's cereal in the United States the following year. The set of characters was the same as the Tyco series of Sesame Street Beans, except Oscar did not have Slimey attached to his hand, and only one Honker (green) was included.
In 2002, McDonald's in Australia offered twelve of these mini-beans with their Happy Meals. Characters included: Big Bird, Rosita, Elmo, Telly Monster, The Count, Cookie Monster, Grover, Ernie, Bert, Oscar, Zoe and Mr. Snuffleupagus.
Commercials